Republished with permission from Tumblr Storyboard. Story by Sky Dylan-Robbins.
A couple years back, Allan Hough went to Berlin and came back to San Francisco a changed man. He had a snappier wrist. A lager-filled belly. And he was inspired. Why don't we play ping pong the way they do in Berlin? he pondered. It sounded silly—but this is a man who takes ping pong seriously.
On a recent afternoon, Hough is leaning against a pool table, arms crossed, staring into the corner of his cluttered, Christmas light-laden garage in San Francisco's Mission district. In a chaos of surfboards and bike wheels and beer cozies and wooden chairs, two emerald slabs—the gigantic halves of a brand new ping pong table—are neatly propped up against the far wall. "I think we'll use the new one tonight," he says matter-of-factly.
It's Monday evening—League night—and in two hours, an assembly of young San Franciscans will pack into to a dimly lit room at the back of Dear Mom, a Mission watering hole that overflows with bearded, flanneled folk sipping fernet on the rocks. Upon arrival, they'll take a moment at the bar (PBR, please) and regroup in the back room, where a pristinely glossy ping pong table awaits them. And then something magical will happen.
A paddle in one hand—the pros bring their own, the amateurs grab from a box—and a beer in the other, members languidly ease into formation, forming a circle around the table like devotees to a shrine. Lil' Wayne plays overhead; small chatter ensues. And then, quietly, someone begins to rap her paddle on the table. Soon, everyone's doing it, and a lady in pink—SAN FRANCISCO BERLIN-STYLE PING PONG LEAGUE emblazoned across her back—raises her paddle. The communal rapping stops, and she serves a tiny white ball across the table. The group swirls in a circular rotation, each taking their turn hitting it back. Weekly practice has begun.
It's rare that you'll find an amateur ping pong player who's been able to leave his day job for the craft—and yet, that's precisely what Hough has done. The League (founded by Allan's good friend, Jessica Kelso), in its second season, enlists one hundred hardcore members. Official, large-scale parties are hosted twice a month. Those who attend are young and old, internet techies and librarians, unemployed couch surfers and CEOs. Everyone communes over the pong.
G/O Media may get a commission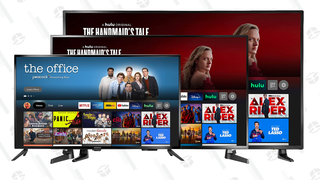 Up to 44% off
Prime Early Access - Insignia Fire TVs
At a recent gathering, one sparkly-topped regular was leaning against the bar, sipping from a frothy glass and watching the rotations. "This is SUCH an amazing game," she murmured between screams of encouragement for the ongoing players. "And Allan's totally living the dream. I mean, he's making enough money to pay the bills and he's totally passionate about what he does. That is the American Dream, after all. Right?"