Welcome to Better Know An Umpire, an effort to educate ourselves on the human elements who have ultimate decision-making power over some 2,500 Major League Baseball games a year. (All cumulative statistics are through the 2011 season, unless otherwise stated.)
Name: Derryl Cousins
Uniform number: 13 (crew chief)
Age: 65
Height/weight: 6 feet, 205 pounds
First year as MLB umpire: 1979
Total MLB games worked through 2011: 4,377 (home plate: 1,106)
Previous experience: Midwest League, Carolina League, Texas League, Pacific Coast League, Arizona Instructional League, Dominican and Puerto Rican Winter Leagues
Career ejections: 111
No-hitters called: None
Over/under record (1999-2011): 187-162
Hated in: Tampa Bay
Notable alleged blown calls: Angels-Yankees, Sept. 14, 2009; Cubs-Cardinals, July 30, 2011; Giants-Phillies, October 16, 2010 (Game 1, NLCS).
G/O Media may get a commission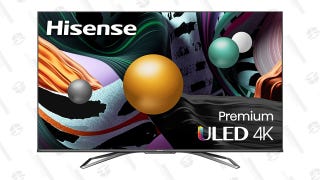 Save $350
Hisense ULED 65" Android 4K HDR Smart TV
Claim to fame: Was shunned by other umpires for years after he crossed a picket line in 1979. (Was also Jim Joyce's crew chief during Armando Galarraga's imperfect game in 2010.
Scouting report from Major League Umpires' Performance, 2007-2010, by Andy Goldblatt:
Cousins has a consistently small strike zone ... Despite the occasional spasms of pitcher-friendliness, Cousins's reputation as a hitters' umpire is well established, to the point where players call him "Shoebox" for the size of his strike zone.
Scouting report from an angry blogger:
let me get this out: FUCK DERRYL COUSINS! hp ump last night was terrible, just terrible. the most inconsistent strike zone i have ever seen. he would call a ball and then the same pitch, 2 pitches later he would call a strike. SAME PITCH, SAME LOCATION. get the fuck out cousins, i hope you get your ass fined. im not the best lip reader, but im pretty sure i saw lincecum say "motherfuckin asshole" after cousins called a pitch a ball when it was clearly a strike. oh and that FOX TRAX thing was in cahoots with cousins because the only times it popped up was when cousins actually got shit right. also it would show the ball going to the outside/inside corners when it was really right down the middle. hella dumb. i know i know, i didnt go to umpire school and im just a civilian in civilian clothes who should probably just stick to my day job, but fuck that! im a giants fan and i criticize, bitch, and tell you how i feel! so derryl cousins can s on a d!
Average K/9 (2011): 13.4
Average BB/9 (2011): 6.7
Sample PITCHf/x strike zone: June 11, 2008. Rays pitcher Scott Kazmir was went off on Cousins's stingy strike zone after this game. (It's easy to see why.)
True fact: Has umpired the ninth-most games of anyone in MLB history. He's about six full years away from breaking Bill Klem's record of 5,369.
Strike 3 call:
To check out other installments of Better Know An Umpire, click here.