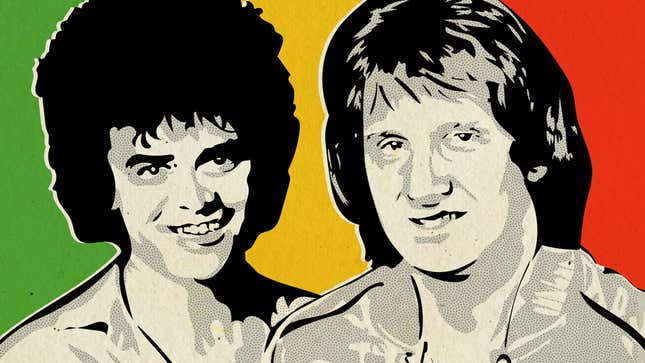 Last week, English art&b enigma FKA twigs released her much-feted debut album, LP1. Born to a Spanish mother and a father of Jamaican heritage, and raised in the large Jamaican expat community of Gloucestershire, the artist also known as Tahliah Barnett is a backup dancer turned singer/fashion cipher/abstract electronic producer praised by everyone from Pitchfork to the New York Times for her "monumental debut," which makes ephemeral dance music "halt and burn into the sense memories and become permanent." In an underwhelming year for innovative albums, her weirdly elongated neck helps her rise above the pack.
Yet there's a curious moment on the album's lead single, "Two Weeks," that has little to do with the subversive, mysterious, visually disquieting aura she's carefully cultivated. For most of the song, Barnett entwines her breathless mewls of desire with drum programming that skitters away from a tactile beat. It's an exercise in delayed gratification. But near the three-minute mark, as she utters the wanton line "Smoke on your skin to get those pretty eyes rolling / My thighs are apart for when you're ready to breathe in," her voice follows the melodic contours of Air Supply's inescapable 1980 soft-pop schlocker "All Out of Love."
Which makes sense: Is there a more effective song at conveying sensual exhaustion? But for an artist drawing ineffably cool comparisons to Aaliyah, Portishead, and labelmates like the xx, invoking such earworm fluff might be the most head-scratching pop moment of the year. Why would Barnett pay such a tribute to the magnificently corny Aussie duo?
For those who fondly revere the '80s without having actually lived through them, the duo of guitarist Graham Russell and lead vocalist Russell Hitchcock seemed to score the soul-crushing sound of Reaganomics (or Thatcherism) itself, with 1980's "Lost in Love" triggering a run of nine Top 10 hits. That breezy pop song wafted weightlessly to the top spot on the U.S. charts, followed later that year by the treacly ballads "All Out of Love" and "Every Woman in the World." That chart domination continued with pap like "Here I Am" and "Even the Nights are Better," before 1983's "Making Love Out of Nothing at All" (later memorably beaten to a pulp by Bonnie Tyler) mercifully marked the end of the Aussies' radio reign.
Yes, from there, outside of radio stations with the word "Lite" in their titles, Air Supply drifted out of the American conscious. Even in New York magazine's recent "The 150 Greatest Schlock Songs of All Time" bonanza, our boys failed to make the cut. "I think Air Supply are schlock, and of course I considered those songs," critic and list-compiler Jody Rosen told me. "I just don't happen to really groove to Air Supply's ballads in the way I do Chicago/Peter Cetera."
Yet in my Caribbean neighborhood in South Brooklyn, the wheat-paste posters tell a far different story. Earlier this summer, amid ads for hip-hop nights and soundsystem clashes, there was a bill for a superstar festival staged in Queens' Roy Wilkins Park featuring island stars like '90s lovers rock crooner Beres Hammond, dancehall toaster Chronixx, and such vintage reggae acts as Marcia Griffiths, Bob Andy, John Holt, and Judy Mowatt. Amid those eight dreadlocked visages, though, were two tanned, cherubic gringos: Graham Russell and Russell Hitchcock. For while America has all but abandoned them, Air Supply remain superstars throughout the Caribbean.
"Radio was all over us when we first started … and then, in 1987, radio refused to play us in North America, and that just spread around the world," Hitchcock told Billboard back in 2011, the year they were one of the headlining acts at the Jamaica Jazz and Blues Festival. "Jamaica has become a place we want to go back to all the time now, because the audiences are just fantastic."
Since 2006, Air Supply has returned to the island annually, including a second Jamaica Jazz and Blues Festival performance. "We were kind of a little perplexed at first," the knighted Lord Graham Russell told the online reggae/dancehall site BoomShots about the initial invitation to JA. "Because we're definitely not jazz and we're definitely not blues. I mean, we've played the Caribbean, but when we first got to Jamaica, it really took us by surprise. They've kind of accepted us into their culture, which I think is great."
American and British fans of Jamaican music might think that the island is entirely obsessed with its main exports of tough dub, righteous reggae, and raunchy dancehall, but there's a softer side to Trenchtown as well. "Americans have a general idea that Jamaican music was like an island version of American black music—that it followed the same pathways from jazz (ska) to soul (rocksteady) to hip-hop (dancehall)," writes Jeremy Freeman, owner of Deadly Dragon Sound, the revered reggae record shop on NYC's Lower East Side. "But this isn't really true. There's also this love of harmony and ballads that made groups like Air Supply, REO Speedwagon, and Journey so popular in Jamaican music." As proof of Jamaica's love of vocal harmonies, he offers a crucial example: "There are endless Beatles covers and hardly any Rolling Stones covers."
Vocal groups like the Impressions held far more sway on Jamaica than hard funk, Freeman explains. At the core of Bob Marley, forever the country's biggest musical export, are the honeyed harmonies of the Wailers. And even when you revisit the most outré reggae productions from Lee "Scratch" Perry, there's usually a sweet vocal core, as on the highly regarded 1977 album Heart of the Congos, which features the gorgeous harmonies of Cedric Myton and Roydel Johnson.
Like any pop aficianados, Jamaicans are suckers for great voices. And Air Supply have an angelic way on their harmonies. BoomShots itself pondered why the duo–along with the likes of Celine Dion and Kenny Rogers— exported so readily to the islands, chalking it up to "the eclectic taste of the average Jamaican music fan and their appetite for melodramatic lyrics that occasionally veer dangerously close to cheesiness."
"There has always been an appetite for schmaltzy ballads in the Jamaican community," says Tom Chasteen, who for 14 years has been hosting the weekly Dub Club party at the Echo in Los Angeles. "Ken Boothe covered 'Everything I Own' by Bread and had a huge hit—it's the type of sound the Clash weren't feeling in 'White Man In Hammersmith Palais' when they disparagingly mention Ken Boothe." He says that a country crooner like Jim Reeves remains popular among the older generation of Jamaicans.
"I always say you can always tell when a collection of Jamaican LPs is bona fide when you come across a copy of Marty Robbins' 1959 smash hit Gunfighter Ballads, " Freeman adds. "I would say that the country-lite, harmony-laden pop sounds of Air Supply connect to Jamaicans who have a long history of loving the same."
So we have the breezy, country-lite sounds of Hitchcock and Lord Russell readily translating into breezy Caribbean-lite sounds. The Kingston-born artist Sanchez—who has worked with the likes of dancehall producers like King Jammy and Bobby Digital—covered Air Supply's "Here I Am" on his 1995 album of the same name, followed a year later by the crooner Wayne Wade, who covered "Lost in Love." A generation on, male group L.U.S.T. scored a 2009 hit reworking "Just As I Am."
And so, while it might be easier (and cooler) to recognize the influence of British dubstep on the bass tones that rumble beneath FKA twigs' productions, using "All Out of Love" on "Two Weeks" serves a similar purpose, perhaps paying homage to Barnett's teen years spent at the Jamaican nightclubs in Gloucestershire. For one melodic line, we catch her feeling her true Jamaican roots.
---
The Concourse is Deadspin's home for culture/food/whatever coverage. Follow us on Twitter:@DSconcourse.
Image by Sam Woolley.
Andy Beta realizes the best part of love is the thinnest slice. He writes at Pitchfork, NPR, and The Wall Street Journal, and tweets as @betaworldpeace.