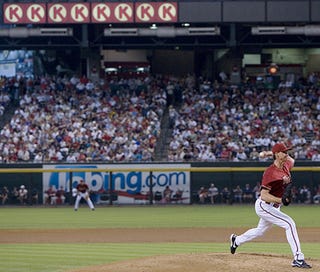 Notes from a day in baseball:
• Big Trouble For Red Sox. Diamondhacks is a baseball blog with an unhealthy obsession with Rockies' infielder Kazuo Matsui and a tendency to be taken over from time to time by the author's alter ego, Ping. In Saturday's effort, Ping notices that Arizona's game against visiting Boston — although declared a sellout — was really anything but. "Here is part of the sellout crowd in the second inning!," writes Ping, next to a photo showing a half-empty upper deck at Chase Field. "Dont forget, Cynical Haters, true fans frequent delicious concession stands during entire game. Premier Chou En Lai Six Packs unparalleled success for Our Glorious City and Franchise of Integrity. TOTAL SELLOUT!! Place to be, definitely." We can't wait to hear what Ping has to say about Sunday's game, in which Arizona's Randy Johnson beat Boston's Daisuke Matsuzaka, 5-1. Johnson went six innings and gave up one run on four hits, striking out nine to move past Roger Clemens for second on the all-time strikeout list. Matzuzaka went six and gave up two runs. Johnson (4-2) won his fourth straight decision, and Carlos Quentin doubled home the eventual winning run in the sixth. As fearsome as Johnson continues to be on the mound, is there anything less fearsome in all of nature than Johnson at the plate?
• Cue Darth Vader Theme. The evil Alex Rodriguez is way better than the good Alex Rodriguez, as it turns out. Strip Club A-Rod had two homers on Sunday to lead New York over Pittsburgh, 13-6; its sixth straight win. And suddenly the Yankees are one game under .500! Bobby Abreu was 4-for-4 with three RBI.
• Things Are Looking Up. Our old friend Albert Pujols also hit a pair of homers, and had five RBI, as the Cardinals beat the Angels 9-6.
• Fair Is Foul, And Foul Is Fair (Act I, Scene I). We wanted so much to use a "Jon From Cincinnati" headline today, but pitcher Jon Coutlangus wouldn't cooperate. So Alex Gonzalez will have to do. Gonzalez's run-scoring single in the 12th gave the Reds a 1-0 win over the Indians. Aaron Harang held the Indians for seven innings, and Cleveland's C.C. Sabathia stopped the Reds through nine. Marcus McBeth (1-1) got his first big league win.
• Hurly Buehrle Man. Mark Buehrle went eight strong innings for his 100th career victory, as the White Sox beat the Astros 6-3 to snap a five-game losing streak.