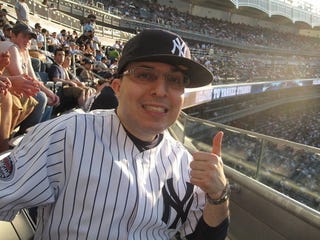 I know a lot has changed in the past 24 hours, but surely you remember Michael LaPayower's homage to pride, power, pinstripes and Derek Jeter. If not, take a moment to reacquaint yourself.
Well, at 6:11 a.m. today, I received a 728-word explanatory email from Michael LaPayower himself who'd clearly done enough research to a) find my personal email, which isn't all that difficult to do, b) discover I was from Philly, c) bring up the whole "Dude puking on preteen girl" but not "the Yankees would've swept the Phils if but not for Cliff Lee" until prompted to do so, and politely at that, and d) attempt to set the record straight.
With no further ado, highlights from the LaPayower Directors Cut...
My video entry is suppose to be humor. If your unable to first be able to laugh at yourself then how are you suppose to laugh at others. Within after one minute after this video starts I first apologize of my lack of proper singing. I also state that I've had fun making this video.

There was never any intent to poke fun of anyone ESPECIALLY the The New York Yankees.

Before you consider myself an embarrassment: Lady Gaga made a spectacle at both a Yankees game this current season and also at Citi field? Who goes to a baseball game an gives the finger? Lady Gaga. Also this week the closer of the New York Mets K-rod attacked his girlfriends father at Citi field and was arrested. Now that's an embarrassment.

I've broken apart the song for everyone to understand my logic:

First line: I know a place where the Grass is really greener
FACT: The Yankees ground crew does an amazing job taking care of the field.

Second Line: "Its Yankee Stadium"
FACT: Great place to watch a Yankees game. The Boss did an amazing Job to build the greatest sports venue

3rd Line: There must be something about this place
FACT: Yankee stadium is very special and all about the New York Yankees History.

4th Line: Its the home of the captain Derek Jeter
FACT: Derek Jeter has been a New York Yankee his whole entire career. Derek Jeter is my favorite player.

5th line : You could travel across the world but nothing comes close to Yankee Stadium.
FACT: There's only 1 Yankee Stadium and its the greatest place to watch a baseball game.

6th Line: Once you watch games in here you will be falling in love chanting Lets go Yanekes
FACT: Who else would you be rooting for? The other team?

7th line: Ultimate Yankee fans we are unforetable. Wearing games in person, watching games on tv or listen on the radio. Wearing Yankee Jerseys and hats
FACT: Plenty of people wear Yanekes t-shirts, hats, jersey during away games and especially when the Yankees are not playing.

8th line: Ultimate Yankee Fans we're undeniable, rooting for the yankees.
FACT: Yankee fans always root for the Yankees.

If you want to continue mocking myself and write more web posts about me. That's totally up to you. But just like yourself i'm a human being with feelings and emotions.
:'(
****
Thank you for your continued support of Deadspin. Weekend's over. The A-Team is back atcha manana. Hope all y'all crap thunder and piss lightning till we meet again on Saturday, the 21st day of August.