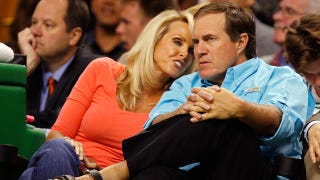 So this was kind of weird. Last night, Linda Holliday, host of Styleboston and girlfriend of New England Patriots coach Bill Belichick, sent out this cryptic tweet:
What ensued was an off-the-cuff Q&A between Belichick and Holliday's Twitter followers. Nothing exceptionally exciting was revealed, as the questions were answered in perfectly Belichickian fashion. Reading them, it's easy to imagine Belichick, slouched next to Holliday on the couch, grumbling his dictated answers while slurping away at a near-empty Big Gulp. Here are a few favorites:
Of course his favorite type of candy is Junior Mints. See more here.