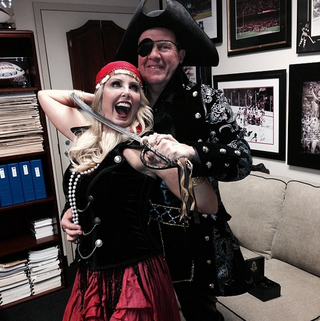 Captain Grumblebeard sails the seven seas! Bill Belichick and his wife girlfriend Linda dressed up as a pair of pirates for Halloween. And Bill's actually smiling!
---
---
Stay in character, Bill. Keep the eyepatch on. Really disappointing performance, here.
Speaking of old buccaneers, Aqib Talib and LeGarrette Blount—along with Brandon Spikes—donned costumes for the holiday. Talib went all out as Chucky. That's Chucky, right?