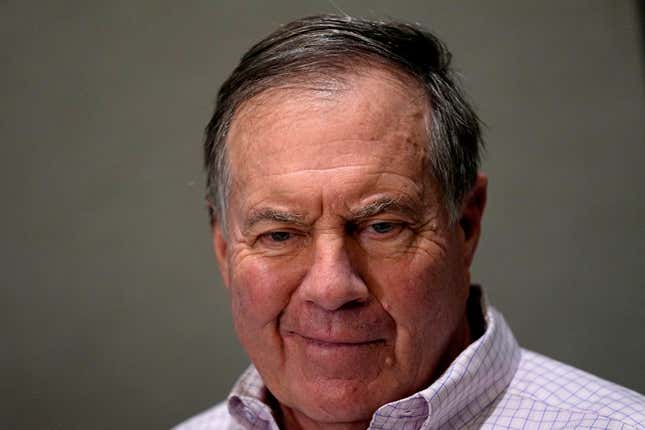 Bill Belichick's penchant for trading back in drafts is typically justified by his accumulation of more picks, which he then wastes on an abundance of offensive linemen, safeties, and the occasional ex-lacrosse All-American.
Is Bill Belichick past his prime? | Agree to Disagree
Despite a terrible track record in the NFL's annual job fair since 2016, Belichick was more concerned with thwarting the New York Jets last Thursday. Instead of taking cornerback Christian Gonzalez at 14, the Patriots opted to exchange picks with the Pittsburgh Steelers, who owned the 17th overall pick. However, anonymous NFL execs told the Washington Post that Belichick was aware the Jets were interested in Georgia offensive tackle Broderick Jones.
The Jets were looking for a lineman to protect Aaron Rodgers
That detail isn't so much of a surprise. Protecting decrepit Aaron Rodgers' blindside is of the utmost importance this season and the Jets have repeatedly whiffed on offensive tackles over the last decade. However, NFL insider Jason La Canfora reports that Belichick took a lesser return from the Steelers to keep Gang Green from landing their guy.
"They should have had to give up a [third-round pick] and not a four to move up there," one NFL general manager said. "Belichick did it just to f–k the Jets. He sold low because he knew the Steelers were going to take the kid the Jets wanted to take."
The Jets took it on the chin and selected Iowa State defensive end Will McDonald with their pick instead of going low and snatching cornerback Christian Gonzalez, who was originally believed to have a top-10 grade, from the Patriots' grasp. The need wasn't necessarily there for New York, whose top corners Sauce Gardner, D.J. Reed, and Michael Carter III had outstanding seasons, but the Patriots spent draft day waging unilateral aggressions against the Jets. New York has to respond eventually.
Belichick has tormented New York's Gang Green for 20 years since resigning as the Jets coach after one day. Aside from Eric Mangini tipping the NFL off to the Belichick practice of authorizing his staff to film the opposing team's defensive signals from an on-field location 15 years ago, the Jets have been the Patriots' punching bag.
For years, Belichick has held the high ground, but this may be the first time the Jets and the rest of the AFC Division are looking down on the Patriots. New York has the momentum and by season's end, the tables may have turned though.
---
Follow DJ Dunson on Twitter: @cerebralsportex