Every morning, the fine folks at Sports Radio Interviews sift through the a.m. drive-time chatter to bring you the best interviews with coaches, players, and personalities across the sports landscape. Today: If you thought the owners won the last lockout, you thought wrong.
NHL deputy commissioner Bill Daly joined Darren Millard, Nick Kypreos, and Doug MacLean on the Fan 590 in Toronto to discuss the state of negotiations, the state of the league in general and the league's struggling markets.
On what happened between the last lockout, in 2005, and now:
"I think the system itself is something that we think has actually worked very, very well. I think it's made our league more competitive than it's ever been. I think the product is as good as it's ever been. I think the revenues we've been able to generate are a testament to the fact that the system itself works very well. As it turns out, 57 percent of the revenues going to the players is too high to be sustainable."
On why that number wasn't too high in the past:
"Bottom line is we missed on that. It turned out to be too much. It was too good a deal at the time."
On the system not being broken:
"I don't think the system as a whole is all that broken. I think some minor adjustments [are needed]."
G/O Media may get a commission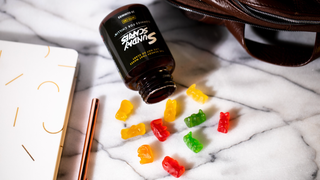 10mg CBD Gummies (22-Count)
On the difference between this negotiation and the one from the 2004-2005 work stoppage:
"It's a totally different negotiation. The players' association has said they'll maintain the cap and it's an economic negotiation. So in my view, on that front, it's a much simpler negotiation."
On the league's insistence on keeping teams in failing markets:
"If a market doesn't work long-term and is given an opportunity, then you have to make a decision on the market and move to a different market. … We aren't at a point where we're willing to call Phoenix a failure."
This post, written by Brad Gagnon, appears courtesy of Sports Radio Interviews. For the complete highlights of the interview, as well as audio, click here.
More from Sports Radio Interviews
• Eli Manning told the Bucs he was going to take a knee.
• Wes Welker has no idea what Bill Belichick's motives are.
• David Shaw won't call Stanford over USC an upset.