Every morning, the fine folks at Sports Radio Interviews sift through the a.m. drive-time chatter to bring you the best interviews with coaches, players, and personalities across the sports landscape. Today: Penn State's coach plans on staying Penn State's coach.
Jokic? Embiid? The NBA MVP is obvious... right? | Keep it a Buck(et)
Bill O'Brien joined 790 the Zone in Atlanta on Mayhem in the AM to talk about the team hanging the banner of the 2012 team with all the other championship banners, on keeping the momentum going, whether he plans on staying at Penn State beyond this year, and what the locker room was like following the win against Wisconsin.
On the team making the decison to hang the banner of the 2012 team with all the other championship banners:
"Our Athletic Director Dave Joyner called me pretty much the day before the game and said that they were going to do that. I felt good about that but I also knew that the other teams on that wall there are undefeated, championship teams and I just wanted to make sure people knew how much respect I had for those teams. At the end of the day this is a special team because of the circumstances that surround this team but those are championship, undefeated teams. It's a good feeling to have the 2012 team up there."
On the way the team finished down stretch:
"After the first two games, especially after the Virginia game, it was a very frustrated team and a very frustrated coaching staff because we felt like we obviously didn't play as well as we could've. I remember when we came back on the Monday practice after the Virginia game that these kids went after it and you knew then that you had a resilient bunch of kids and they came on strong here, they won eight out of the last 10, it's a great senior class and we have a lot of good football players on this team and they finally broke through and we got on a little bit of a role."
G/O Media may get a commission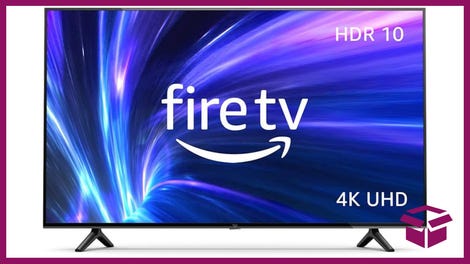 42% Off
Amazon Fire TV 50" 4K Smart TV
What he has to do to make sure the momentum from this past season carries over into 2013:
"Yeah it's not going to be easy. I think every year is different so we had a team meeting yesterday and told the team, 'look the 2013 team has to create its own identity. It has to start pretty much right now and you can't just try to duplicate what the 12 team did.' Every team is different. That's the one thing that I learned in New England, every year is different and every team is different so it won't be easy going forward, but I know this, we have a lot of good football players on this football team and we will be playing with a brand new quarterback next year, whoever that may be, but at the end of the day we have a lot of kids coming back that have played a lot of football but again we have to have a really good offseason and figure out what the identity of the '13 team is going to be."
On the rumors that will likely come up linking him to other coahcing jobs, including ones in the NFL:
"I plan on being the head football coach at Penn State. That's my plan and that's what I intend to do."
What he makes of the season Matt McGloin had:
"He had a good year. From Scranton PA, he's a tough kid, a competitive kid but really a smart guy. He worked at it, knock on wood he stayed healthy for the most part and every week he got better. He didn't throw many interceptions, he threw a lot of touchdown passes, he managed the game well and I'm just really proud of the kid and how far he came. He was a walk-on here at Penn State that beat out about four or five guys in years here to get where he is today and its a testament to him."
What the scene was like in the locker room following the win over Wisconsin:
"It was an unbelievable locker room scene and it was pretty neat to go into overtime to give us a little extra football but the locker room scene was an emotional, fun time because these kids were jumping around. I mean you can imagine. To beat a tough team like Wisconsin, at home, in their last game, it just meant the world to these kids and it was fun to watch."
On his team receiving the message about what this season was really all about:
"I think so. It was a tough, tough year here, especially if you go back to November but I think these kids, and again it goes back to this Senior class, they're wise beyond their years. As time went on they realized that it's not about Bowl Games, it's about making sure that we do our part to help put an end to child abuse but at the same time go out and play as good of football as we can and like every season we wish we had some plays back and some games back but I think at the end of the day we played pretty good football."
This post, written by Chris Fedor, appears courtesy of Sports Radio Interviews. For the complete highlights of the interview, as well as audio, click here.
More from Sports Radio Interviews
• Ray Rice walks us through fourth-and-29.
• The Cardinals will stick with Ryan Lindley.
• It's about the time of year the Giants get hot.