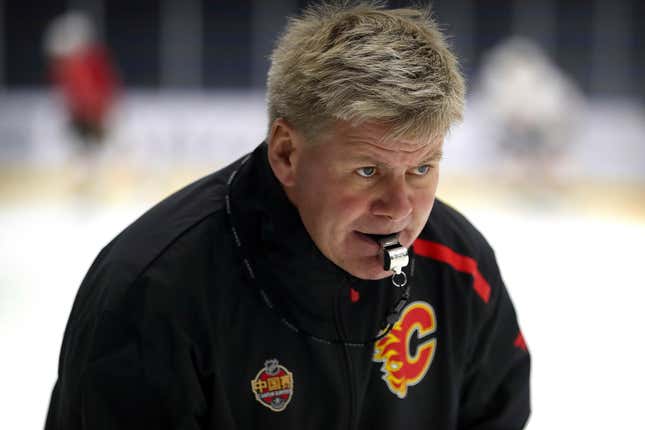 Hockey's culture problem is easily explained. One, the sport doesn't have much interest in changing, because it's always been, and is happiest, when it's insular. Say anything about it, and the response will automatically be, "You just don't get it because you've never been in the room." Two, that insularity is perpetuated because hockey can't help but hire the same people to do the same things, raising the next generation of players through the same ooze and producing the same results. One needs to look no further than Bill Peters getting a job in the WHL with Lethbridge this week.
Worst sports moments of the week
As a refresher, Bill Peters was canned from his NHL coaching job with the Flames after it came out that he not only racially abused his player Akim Aliu while coaching the Blackhawks AHL team, but also blackballed him throughout as much of the league as he could. Additionally, he was known for being abusive to other players — kicking them on the bench. While Aliu's teammates corroborated his story, and the then-captain of the Rockford Icehogs stuck up for him with Peters and the Hawks organization, it never went anywhere. Current Hurricanes head coach Rod Brind'Amour confirmed he saw Peters abuse players when he was coaching the Canes, and yet did we hear anything at the time? Nope, because that would "disrupt the room," or "be a distraction." And that's still the most sacred thing in hockey.
There's no reason to rehab or recycle Peters other than simply to do so. In hockey, you get one job and you get 17, no matter what kind of dickbag one happens to be. But it gets worse.
Peters has never reached out to Aliu to apologize, at least not until he was on the verge of getting this WHL coaching job and knew his name would be in the news cycle. He didn't even directly contact Aliu himself, but went through another coaching friend. This is not a guy who is interested in actually making amends. Just one interested in covering his ass in a PR sense.
Secondly, this guy will be coaching children! Junior players barely go to school, if at all. You'll find a good portion of NHL players are seventh or eighth-grade educated. So their coaches in the junior leagues are just about the only authority or adult figures they see on a daily basis from the age of 14 or 15 on. It couldn't be clearer why so many of them come up warped, with no sense of what racism, misogyny, or sexual assault is. Because guys like Peters are the ones directing them at developmental ages. And hockey seems fine with it to continue because that's how it's always been done. Hockey would rather protect its own than force anyone to grow or, god forbid, see the game and culture change. Peters is a good hockey man, is a phrase that is assuredly coming down the pike sharpish.
Peters will hardly be the only cranky dinosaur manning a CHL bench, he's just the one we know about. Hockey players who run afoul of something once they get to the AHL or NHL, got there because when they were kids the only role model they had in their lives didn't much care about anything else than getting their lines right and racking up wins toward a Memorial Cup or whatever else will produce a banner in the giant, glorified outhouse in some frozen Canadian trading post that houses most junior teams.
Peters may have taken whatever course he was forced to. Maybe he wrote an essay detailing what he thinks he did wrong. He'll say all the right things. Given that it's Lethbridge, not that much attention will be paid. You can be sure that should Peters guide the Lethbridge Hurricanes to success, some NHL team will go sniffing. Get one job, you get 17, and NHL teams are terrified to try anyone new. Peters probably still has more than enough friends in the NHL looking to do him a favor, because no one ever leaves the league.
This is hockey at its finest.
---
Follow Sam on Twitter @Felsgate and on Bluesky @Felsgate.bsky.social