A police affidavit has been released giving more details about what police have found in the investigation into what part forward Josh Jackson played in damaging the car of McKenzie Calvert, a guard on the women's basketball team.
The document has two witnesses, both members of the women's basketball team, saying they saw Jackson damage Calvert's car. It also shows police spoke to just one member of the men's team—Jackson himself, who had team coach Bill Self with him during his police interview. The affidavit does not mention anyone else being with the women when they talked to police.
The affidavit was first published yesterday by the Lawrence Journal-World, which requested the document from the local court. Jackson has been charged with a single count of misdemeanor criminal damage of property of less than $1,000. Calvert's father has since said a lawyer for Jackson tried to encourage his daughter to not pursue any charges (which Jackson's lawyer denied) and that he wanted to know why the university didn't immediately conduct a Title IX investigation. (A KU spokesman said Tim Calvert was spreading "false information.") Self has said the program "applied the appropriate in-house discipline immediately after; that discipline will remain in house."
The affidavit starts on Dec. 9, with Lawrence police talking to McKenzie Calvert. She said she was at a sports bar, the Yacht Club, when she got in a fight with her ex-boyfriend, Jayhawks player Lagerald Vick, and threw a drink at him. Vick was previously the subject of a Title IX investigation that found Vick "more than likely punched Calvert in the arm more than once and kicked her in the face in late 2015," according to the Kansas City Star.
Calvert told police she left the bar but Jackson followed, yelling and calling her names, so she got in her Ford Focus and locked the door. Jackson kicked the car, she told police, and she showed police a damaged rear tail light, a dent in the driver's door, and a crack in the front windshield.
G/O Media may get a commission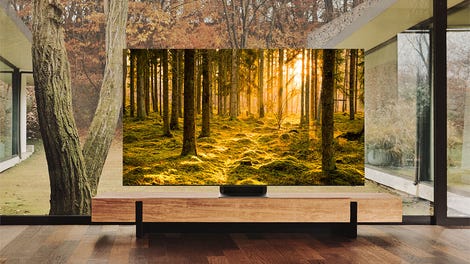 Up to 40% off
Samsung Smart TVs
The next person police talked to was Jackson. They talked to him the same day as Calvert; here is how the affidavit described the meeting.
Three days after the Dec. 9 interview, Calvert gave police the estimate from a local body shop to fix her car ($2,991.81).
The narrative picks up again on Jan. 30, when police started interviewing members of the women's basketball team. While there are some differences in the details of each account, they generally line up with what Calvert told police. At no point does the affidavit explain why there was a seven-week gap between talking to Jackson and then talking to witnesses.
Women's team forward Caelynn Manning-Allen spoke to police at the university's women's basketball office. She said she saw Calvert look upset, throw her drink at Vick, and then walk out to her car with Jackson following while he "angrily questioned Calvert about her actions," according to the affidavit. She said saw Calvert yelling back. At one point, Manning-Allen said she stood in front of Jackson to try and calm him down. Jackson started to walk back inside the Yacht Club, but later came out with Vick and some others and walked toward Calvert's car.
Guard Eboni Watts told police she too saw Calvert throw a drink at Vick. She also saw Calvert walk to her car while Jackson followed, both of them yelling at each other. She was inside the car with Calvert when Jackson appeared.
Then police spoke with Calvert again. She said she threw the drink at Vick, then left the bar. As she walked out, she heard someone say, "Hey bitch," per the affidavit. She said she turned around and saw Jackson, who looked angry and kept walking toward her while Manning-Allen tried to hold him back, but Jackson eventually got to her car. She tried to back out, she told police, but stopped because she saw Jackson in the backup camera.
The affidavit does not include any interviews with members of the men's teams except for the initial interview with Jackson. The district attorney gave this response in a press release as to why Jackson did not receive a felony charge, according to the Journal-World.

Charles Branson said in a news release Jackson was not charged with felony criminal damage, defined as damage exceeding $1,000, because "the state can't prove beyond a reasonable doubt that all the damage to the door and tail light were caused by Jackson due to other unidentifiable individual(s) damaging the vehicle."
You can read the full affidavit by clicking here.