Look man, I know Ley already posted about it earlier but for real, get a fucking load of this Bill Simmons column that dropped today. It's a fucking disgrace. There have been so many awful Bill Simmons takes throughout history, including this one, this one, and this one. You could make a Hall of Fame out of them. Why, you could even shape it into a "pyramid" of sorts, leaving the top level for only the shit of the shit. And within that summit chamber would rest this extruded piece of demented recto-babble.
The Story That Tried to Divide Brady and Belichick
This, as you know, refers to the ESPN deep dive on Belichick and Brady written by Seth Wickersham last week, about which Simmons is still very much Not Mad Online, and about which he oscillates between denigrating as FAKE NEWS and NAWT NEWS, presumably while walking around his dudecave in an Edelman jersey with no pants on.
My favorite book is David Halberstam's The Breaks of the Game, the 1981 classic that remains the best sports book ever written. What's striking about his prose, even 37 years later, was how little he relied on quotes… He didn't need quotes. You believed him because he was Halberstam — the best at what he did.
Ah, well I can see how Simmons admires someone who doesn't rely on quotes, because he's about to try and debunk Wickersham's report, sourced to "interviews with more than a dozen New England staffers, executives, players and league sources," using nothing more than brute force ego and a Gatorade full bottle of dip spit.
At age 76, after five Super Bowls, Kraft suddenly started ordering the NFL's greatest organizational asset around? Really?
REALLY?
I know someone who spent time with Kraft last weekend; Kraft was more dumbfounded by the story than anything.
G/O Media may get a commission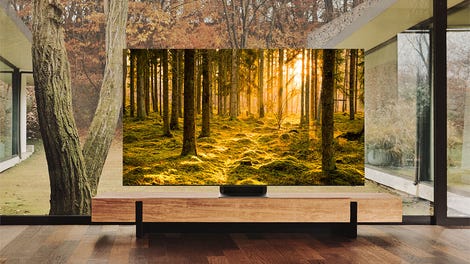 Up to 40% off
Samsung Smart TVs
See now that's the kind of STRONG NARRATIVE I prefer. Instead of relying on weaksauce "quotes" and "facts", you believe Simmons here because he knows a guy who knows a guy who knows a guy who knows his buddy Bluebutt who heard Kraft ribbit in disapproval. Don't need quotes for that, kids!
What?
Really?
What????
REALLY WHAT????
But let's assume the tidbit about Garoppolo's extension was true, even if local reporters like Tom Curran disagreed.
Oh did he? Let's have a look at what Curran said in a subsequent column…
"The 4,630-word article accurately lays out an atmosphere of tension and uncertainty in Foxboro that – while not unprecedented (2007 to 2009 was sticky too) – is gathering just as everybody's getting old and nearing the end."
My apologies for quoting Curran there to make my point when I simply could have FELT such sentiments at you. Oh, and Belichick specifically never denied the report, so that's neat.
I don't doubt the reporting itself…
Then what is your fucking point.
…but what if Wickersham were misled or misinformed by a source?
What if he didn't get any of his information from an unimpeachable source, like my boy Dickfart?
What if he became a little too consumed with spinning a certain narrative over presenting a balanced case?
Indeed. What if, in his zeal, a writer became so utterly blinded by prejudice and favoritism that he ended up rambling on to the point of outright incoherence? I've seen it happen.
You know Belichick — he's all about getting out a year too early over a year too late. If Belichick had created The Sopranos, he would have killed off Tony at the end of Season 5. That's just how he rolls.
I WATCH TELEVISION!
Meanwhile, Brady spent the spring and summer getting goofy with the TB12/cookbook/lasting-until-he's-45 stuff. Which, by the way, wasn't anything that new.
NAWT NEWS NAWT NEWS NAWT NEWS WHY ISN'T ANYONE BUT ME TALKING ABOUT THE FACT THAT THE PATS HAVE FIVE RINGS?
In October 2014, I wrote a long Brady vs. Manning column that included an anecdote about a buzzed Julian Edelman vowing to me that Brady would easily play into his mid-40s.
See, Seth? Now THAT is some reporting. From the drunken mouth of Brady's lapdog himself!
By Christmas Eve, after yet another Jimmy victory, my buddy Hench emailed me…
God, FUCK Hench. How many goddamn friends and relatives are you gonna give jobs to? "Coming up next on The Ringer is a 57-part podcast breaking down Short Circuit 2 hosted by my boy, and #1 Short Circuit 2 fan, D-Mick!" Ron Artest had a smaller crony payroll, Christ.
"I think granting Garoppolo clemency was the first, only and final moment of altruism in BB's career. He just couldn't look at those sad eyes in meetings any more as he chewed up a player's prime."
Oh well thank God I have HENCH here to toss out an embellished version of what Wickersham actually reported out and confirmed in the very article you're bitching about. David Halberstam used quotes in plenty of his work, but maybe Simmons is right that he didn't need them as much as others because he was the very best at what he did. Simmons, by contrast, needed to quote his fucking golf buddy to make a point. What's that tell you?
My theory, trotted out on last Friday's B.S. Podcast, was that the younger Garoppolo had won over everyone in the locker room — true, by all accounts, by the way — whereas the notoriously team-first Brady promoted himself in 2017 more than ever before.
THAT'S IN THE ESPN STORY YOU COMPLETE FUCKING DOPE. Have I lost my goddamn mind? I feel like all my skin is gonna melt off. "Hey, this report about Blake Bortles being a lousy QB is fake news. Why isn't anyone paying attention to my podcast, where I teased out the idea that Blake Bortles…is a lousy QB? TRUE BY ALL ACCOUNTS BY THE WAY."
What if they had a couple of competitive practice moments that were skewed in a slightly dangerous, Dirk Diggler vs. Johnny Doe kind of way?
I swear this man has watched a grand total of six movies in his lifetime. THIS SCENE IN TEEN WOLF REMINDS ME OF ANOTHER SCENE IN ROCKY III!!!
Of course, Patriots fans don't need help thinking about the finish line these days. We stunk last century almost as much as the Browns stink now.
No. Sorry. You don't get to do that anymore. You are the rich that should be eaten.
This century, we're working on 17 years (and counting) with the GOAT coach and the GOAT QB. The Snow Game. Those Vinatieri kicks. Beautiful Day.
What.
I remember hugging two Pats fans in the Superdome in 2002 — all three of us delirious — and it seems like 200 years ago.
I know! You may have actually been reasonable people back then instead of whatever fucked-up, wealthy, cockfaced steakhouse bros you are now.
Only a handful of fan bases ever rooted for a truly great team. We were one of them. We still are. What a gift.
YOU: Bill, this report says the Patriots have had some internal strife.
BILL: (huffing ether) It's a beautiful dayyyyyyyyyyyyyyyyyyyyyyyyy
Sky falls, you feel like
It's a beautiful dayyyyyyyyyyyyyyyyyyyyyyyyyy
Don't let it get away
By the way, this column has picks at the end of it.
You might remember me going 0–4 last weekend and getting killed like just about everyone else. Guess what? I'd make three of those four picks again.
BILL: You might remember the time I stuck my dick in a paper shredder. WELL GUESS WHAT? I'd do it all over again. Take THAT.
MAILMAN: Sir, I was just asking you to sign for this package.
Stay away from the Eagles game. Not only are seven different Manifesto rules are in play…
Really? Wait, I don't feel like I've gotten my point across enough…
REALLY?!
There. I think that more or less corroborates the entirety of my rage. It is nearly impossible to read this column without your eyes glazing over and your brain turning to tapioca. This is the work of a man who, professionally ("stet all changes"), has almost never heard the word no. This is a man who feels no need to listen to anyone else because his own feelings are the ultimate authority. I cannot think of anyone else that reminds me of.
People ask us why we harp on Bill Simmons a lot here and the answer is because he's the most powerful, influential sportswriter in America. He is the only man who was given not one but TWO blank checks to open up a vanity shop, wherein he can collect writers to lend him the kind of prestige that his own work cannot. And he sucks. He is a deluded brat whose entire reference point for anything is himself, and who has sunk ever deeper into flannel-draped megalomania in his quest to become a peer among West Coast tech bros. That, my friends, is newsworthy shit.
The advantages he's been given are fucking nauseating. The man got paid millions upon millions of dollars and was granted full creative license by ESPN, and he STILL bitches about how that company held him down and treated him (Trump voice) VERY UNFAIRLY. His football team is the greatest of all time and he still feels compelled to tsk-tsk a reporter for his work because he heard something TOTALLY different when he was sharing a Lime-A-Rita with Julian Edelman. It's fucking embarrassing, and it's emblematic of an America where one aggro dickwipe is somehow worth 10 times as much, if not much more, than the superior talents beneath him.