A year after Bill Simmons launched The Ringer on Medium, he has signed a deal to move the site's editorial operations to Vox Media, according to a press release. Vox Media will "lead sales efforts" for The Ringer, but the site will remain editorially independent.

Vox Media draws a distinction between adding a site to its existing corporate family of sites, which already includes SB Nation, and merely making its "advertising and technology platform" available to a site, as it says it will be doing for The Ringer. A spokesperson for Vox Media has not yet responded to a question about what it means to lead sales efforts, and whether the Ringer's current advertising team will be merged with the advertising staff of Vox Media or not.
Vox Media runs a collection of other sites including Eater, The Verge, Curbed, Vox, and Polygon, but per the Wall Street Journal, this deal is "the first time Vox has opened its platform up to a third-party company."
The Ringer's home on Medium was always meant to be temporary, as Simmons said in an interview with Recode earlier this year:
Did they pay you to come on?
I don't want to talk about the deal we had. But it was a really good deal for us, for the things that we needed.

And they sold ads? You sold ads?

They sold one or two.

So they're out of the ad business, but that doesn't affect your revenue stream?

No. Because our revenue stream, from the get-go, was our podcast network and the brands that we were bringing in [ourselves]. And some of the video stuff we were doing.

With Medium, it was basically like, they build our site, get it up by June, we know it's not going to crash. And we'll buy ourselves some time. Best-case scenario, this is fucking awesome, and we'll stay at Medium for 20 years. But we always knew that there was a pretty good chance that this was a short-term thing. And it was good for them, and it was good for us.

So you will move off them and do your own thing? Or go somewhere else?

We're going to build our own site. At some point. I don't know when.
Medium's CEO admitted earlier this year that the company's business model was not making money, and the company laid off about one third of its employees.
G/O Media may get a commission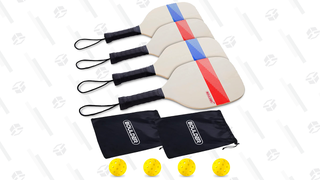 It's Pickleball
Pickleball Sets
In the press release announcing the deal with The Ringer, Vox CEO Jim Bankoff lauded Simmons's commitment to branded content: "Bill is one of our industry's great innovators, with one of its most loyal followings. He shares Vox Media's commitment to high quality storytelling and branded content."
HBO is an investor in the Bill Simmons Media Group, which runs The Ringer and its arsenal of podcasts; Simmons also had a short-lived weekly TV show on HBO that was canceled due to dismal ratings.