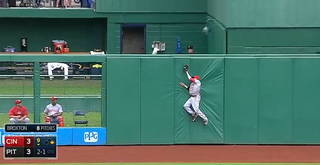 Billy Hamilton, who is fast as hell, made one of the better catches you'll see all year in the ninth inning of today's game between the Pirates and Reds.
With the score tied 3-3 and a runner on first, Travis Snider smoked a pitch to deep center field that looked like it was destined to leave a dent in the outfield wall. But Hamilton ranged back, leapt from the middle of the warning track, and snatched the ball out of the air while slamming into the fence.
This isn't exactly Andruw Jones going Spiderman on the outfield fence, but it's still pretty nice.
Aside from this play, Hamilton's quietly been putting together a very nice season. While lauding his speed at the beginning of the year, we remained wary of the fact that his inability to hit with any consistency might hamstring his production. Well, Hamilton's hitting .278/.316/.400, and he's accumulated 2.3 fWAR, which is good enough to make him a top-25 player. He's even got four home runs! It's not too late to jump on the Billy Hamilton bandwagon.