The boxing world was abuzz last week with the revelation that a gentleman in an extremely shady black hat might have interfered with judges' scorecards while ringside at the Amir Khan-Lamont Peterson fight in Washington, D.C. in December. At least that's what the Khan camp alleged. (Khan lost both his WBA and IBF light welterweight titles that night in a close fight.) Who was this mysterious customer? And what was he doing handling official-looking paperwork during the fight?
Now we have an answer, in part. The man's name is Mustafa Ameen. At the fight, he identified himself as an IBF official. Richard Schaefer, the CEO of Golden Boy Promotions, which promoted the bout, said the IBF told him that Ameen was credentialed for the fight. Khan's trainer Freddie Roach thought otherwise:
"He comes to my gym. He came to the [US] Olympic training centre and I actually had him removed one time," he said.

"I told the coaches, 'There's no need for him to be here.'

"[Ameen] has no credentials; he's not a member of any boxing organization," he said.
"There's no reason for him to be at ringside.

"Why he was ringside and why he was in the ring afterwards celebrating and so forth I have no idea."
A fair question. Ameen will have to answer it at a Jan. 18 IBF hearing during which Khan will appeal the decision. The IBF could order a rematch, as Schaefer claims the WBA has already done. To find out more, I called Daryl J. Peoples, the IBF president, who had this to say about Ameen:
He's not an IBF official.
Peoples told me that Ameen's affiliation with the IBF is through the organization's "Special Assistance to Retired Boxers Fund," which provides financial support to retired boxers and their families.
Mr. Ameen does some outreach work for us. He identifies some fighters that might need assistance. He is non-compensated. ... I requested that the DC commission allow him a credential to get into the fight.
G/O Media may get a commission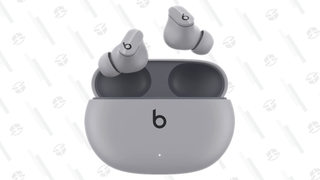 Hey, if you got credentialed and could sneak down to the turnbuckle to watch the fight, you probably would. If you could celebrate with the new champ afterward, you'd probably do that too. Maybe Ameen is just a fanboy and wannabe insider. Maybe he's doing "outreach." Or maybe he's really a shady man in a shady hat. This is boxing, after all.