It's been a very weird week for the Blackhawks, which kicked off with a broken collarbone for Patrick Kane that will see their leading scorer out through May, closed with a pair of significant "we're going for it" trades, and in between saw some thinly sourced rumors take on a life of their own. It's gotten to the point where this afternoon, the team's leaders felt compelled to publicly deny a problem, even while not acknowledging what that problem is alleged to be.
Things began on Tuesday when local radio host Dan Bernstein sent this cryptic tweet.
(If you'd like to know what the most common specific rumor has been this week, click through and see the first reply to Bernstein's tweet.)
Then, on Thursday, former NFL player and current Fox analyst David Diehl took things to the next level:
G/O Media may get a commission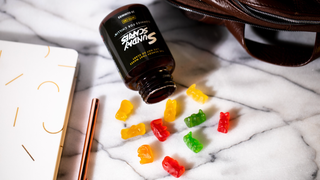 10mg CBD Gummies (22-Count)
Diehl's a Chicago native, but why would he have any inside info here? Didn't matter. Folks put two and two together—or perhaps both were correct, and we only now had the full story—and in the span of a couple of days, it became more or less accepted wisdom that the Blackhawks locker room is irreparably torn.
Not so, the players said today. Sharp, along with Brent Seabrook and Jonathan Toews, addressed the media at practice.
See? It's fine. Everything's fine.
There is a decent chance Sharp gets moved before tomorrow's trade deadline (the Capitals and Red Wings are reportedly among the teams who called), and it'd be for entirely anodyne reasons: he's having a down year, and his contract will be tough for the cap-crunched Blackhawks to deal with this summer. Sharp's agent says he was told by Stan Bowman that a trade isn't in the works.
But if a trade does happen, imagine trying to convince anyone that shipping Sharp out of town was for hockey reasons, and not a desperation attempt to save a Hawks season that appears to be sitting right on the verge.