Why on earth would the Jaguars sign the quarterback who has spent much of his four-year career doing shit like this—
Jokic? Embiid? The NBA MVP is obvious... right? | Keep it a Buck(et)
—to a contract extension that runs through 2020? Well, to start with, the odds are pretty good it won't end up running through 2020.
Basically, the Jags bought themselves some short-term cap relief by hedging their bet on a decision they made on Blake Bortles last year. Jacksonville also has an escape hatch built into Bortles's new deal, though there still is some risk involved.
G/O Media may get a commission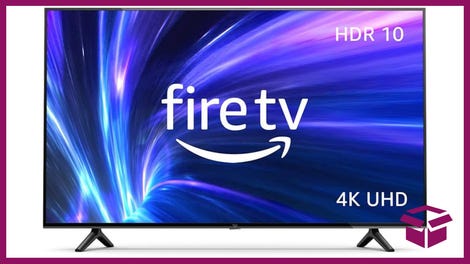 42% Off
Amazon Fire TV 50" 4K Smart TV
Back in May, right before the deadline to do so, the Jags elected to pick up the fifth-year option on Bortles's rookie deal. At the time, GM Dave Caldwell explained that Bortles's 2018 option salary of $19.05 million represented the median for starting quarterbacks, which seemed like a reasonable investment. Fifth-year options for first-round picks are guaranteed for injury at the time they're exercised, and they vest to become fully guaranteed on the first day of the league year of the player's fifth season, which for Bortles would have been March 14.
In late January, just after the Jags were beaten in the AFC championship game at the end of a playoff run achieved somewhat in spite of Bortles's ability, Bortles had wrist surgery. This created something of a problem: As ESPN's Adam Schefter pointed out, the Jags were not permitted to cut Bortles while he was injured or recovering from an injury, and if Bortles couldn't pass a physical by March 14, the Jags would have been on the hook for that injury guarantee. That likely took the Jags out of the running for Kirk Cousins, in the event they wanted to pursue Cousins in free agency.
Per NFLPA records, the Jags carried over some $27 million in unused cap space from 2017, and before re-upping with Bortles they were expected to have about $20 million to work with this offseason. Jacksonville has built its roster by hitting on a number of high draft picks in addition to getting aggressive in free agency in recent years—something it's been able to do by stockpiling cap room. Bortles's salary—and his future—thus presented the Jags with both a dilemma and an opportunity: an extension would give them a chance to reduce his 2018 cap hit while simultaneously locking in some cost certainty if he were to keep improving. That's the thinking that's pretty much reflected by the structure of Bortles's new deal.
The terms of Bortles's contract, according to multiple reports, are a max length of three years with a max value of $66.5 million. Some $26.5 million is fully guaranteed. Bortles will still get $20 million in cash this year, even as the Jags found a way to reduce his 2018 cap charge to $10 million. They did this by giving him a $15 million signing bonus, which is payable up front but can be accounted for across the three-year max life of the deal, along with a $5 million base salary for 2018. And that's $9 million in 2018 cap savings that can be put toward a deal or a franchise tag (projected to be $16 million or so) for wideout Allen Robinson.
Additionally, the Jags guaranteed $6.5 million of Bortles's $16 million 2019 salary, and none of his 2020 salary of $18 million. The last $12.5 million of that $66.5 million in max value is incentivized.
What does this mean? Essentially, they're only giving Bortles an extra $7.5 million in cash (the difference between his new guarantee and the $19.05 million he was slated to earn on his fifth-year option) in exchange for major cap savings in 2018. Even after his $10 million cap charge in 2018, he'll be affordable if they want to keep him; Bortles will account for $21 million against the Jags' cap in 2019 and and $23 million in 2020—figures that could look like relative bargains after Cousins, Case Keenum, Matt Ryan, and Aaron Rodgers get new deals in the next year or so in a world in which the cap is expected to continue to rise substantially.
Here's where the risk comes in for the Jags: If they wanted to cut bait on Bortles after this season, it's going to cost them $16.5 million in dead money on their 2019 cap (the $6.5 million in guaranteed salary plus $10 million in accelerated cap proration from that $15 million signing bonus). That would be a pretty big shit sandwich to eat, even in this era of rising cap figures. But, as Jason Fitzgerald wrote over at overthecap.com, "Far better to gamble on a young quarterback than to kick the can on Calais Campbell and Malik Jackson who are older players." And according to Sports Illustrated's Albert Breer, the Jags also worked an offset into that $6.5 million in 2019 guaranteed money, which means another team would be on the hook for that amount (both cash and cap) should Bortles sign elsewhere after being cut.
In conclusion: