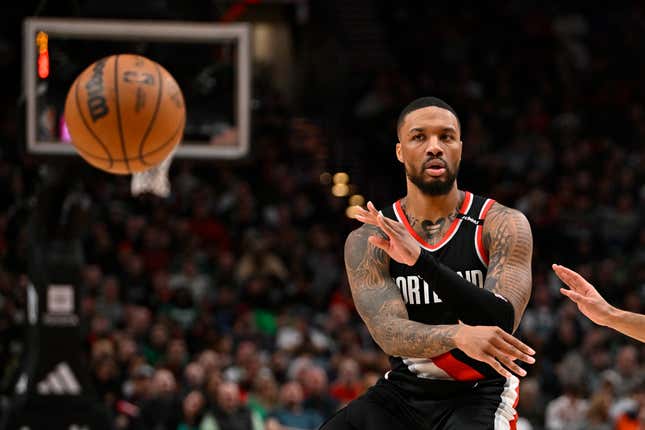 No matter the level of NBA fandom, everyone has an opinion on Philadelphia 76ers guard James Harden. Whether it's about the beard, his brash attitude once he's fed up, or his belly, Harden always gives us something to discuss. His latest stunt involved calling his boss (now former friend), Daryl Morey, a liar. That's no exaggeration, in case you've missed that clip circulating around the internet. More importantly, Damian Lillard should be taking notes in Portland.

Whining or Wine-ing? James Harden vs Daryl Morey | Agree to Disagree
"Daryl Morey is a liar, and I will never be a part of an organization that he's a part of. Let me say that again: Daryl Morey is a liar, and I will never be a part of an organization that he's a part of."
Now that's how you force a trade in The Association. Harden is no stranger to doing precisely that, but he's never been this blatant and disrespectful in his actions. When he suddenly showed up way overweight and out of shape in Houston a few years ago, everyone figured Harden had gone overboard in seeking a trade. Many joked that he'd worn a fat suit to force the Rockets' hand. However, coming out and publicly calling your boss a liar in front of a group of people, knowing you're on camera, might be the most egregious thing he's done.
For any NBA player looking for a crash course in forcing trades, here you go. Mr. Harden is showing you live and in living color how to get the job done. Lillard should be out on the west coast practicing his delivery right now. This isn't guaranteed to work, but it's a huge step in alienating yourself from the team and front office.
If Lillard wants out, it'll take more than what's happened thus far. There's no sense of urgency on the side of the Blazers because they don't have to make any move. It's also not in Lillard's character to make a big fuss and cause drama like Harden and others before him. Dame is a chill dude who actually likes where he is, but also wants to win. Portland isn't in a position where they can truly compete in the western conference.
At 33 years of age, Dame could play another five years (possibly more) if he wants, but who knows how much longer Lillard will be at peak level. Playing with a franchise that can't attract top-tier free agents definitely has its drawbacks, especially once a star player begins to age. When healthy, Lillard is still arguably one of the best guards and players in the world. But even Michael Jordan needed help. The same goes for LeBron James and other stars on multiple levels.
It's hard to imagine Lillard carrying on like this, but it's something to consider. This might sound outrageous, but sometimes acting a fool gets results. Most pundits still think a Dame trade is on the horizon; it's just a matter of when and where. We know he's allegedly keen on heading to south beach with Jimmy Butler and Bam Adebayo, but the Blazers have no obligation to send him there. Sure, they want to put him in a better situation, but they won't do it at the expense of their organization's future. Unless Lillard flips the script and goes rogue, crashing out as Harden has done on multiple occasions.