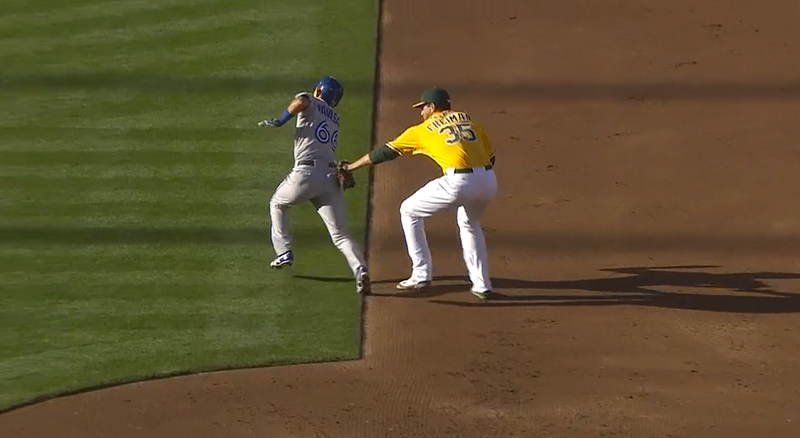 Blue Jays manager John Gibbons used MLB's instant replay in an unusual but clever decision in the top of the second of Thursday's game against the Athletics.
The video, which you can watch below, is excruciatingly long, so here's the short version: Toronto had the bases loaded with Anthony Gose at the plate. Gose hit a ground ball to Athletics first baseman Nate Freiman; Freiman tagged Munenori Kawasaki, who was running from first to second, on the butt. Umpire Vic Carapazza ruled that Freiman missed, and Kawasaki was safe. Freiman then threw to home plate, and catcher Stephen Vogt stepped on the base for the forceout on Edwin Encarnacion.
Gibbons came out to challenge the call that Kawasaki was safe, because if the second baseman was called out, there would be no forceout play at home, and the run would score. There you go, John.
After what seemed like ages, the umpires overturned the call and gave the run to the Blue Jays. Athletics manager Bob Melvin ran out to get an explanation and told the umpires the team would play the rest of the game under protest.
Oakland took a lead in the bottom of the second and the Athletics won, 4-1, so Melvin was probably fine with the result.