Stephen Strasburg was pretty amazing in his major league debut last night, but that didn't stop baseball's self-appointed dream weaver from pumping up the superhero rhetoric even further—while simultaneously blaming others for their flights of fancy.
At least five times during the MLB Network broadcast of the rookie's coming out party, lead announcer Bob Costas took great pains to remind us, the hysterical masses, that this is just one game that will not be indicative of Strasburg's entire career. Then with every subsequent strikeout, he took even greater pains to imagine the colossal heights to which this great Washington ball hurler will ascend. In the first inning—the first—he posited that Strasburg could be the greatest Washington baseball player since Walter Johnson. Johnson's name came up again and again, even though you might as well compare Eli Manning to Mel Ott since they both played for the New York Giants.
Johnson is arguably the greatest right hander of all-time ... but let's not get ahead of ourselves ... even though the pair should definitely be spoken about in the same sentence ... if all goes according to plan ... which is really his destiny, because look at that curveball. Why won't heed his warnings about your hubris?
It's incredible to listen to Costas talk about the "media hype machine" as if he were not a part of it. Hell, he's the engine driver. He scolds "some" for jumping the gun on Strasburg's Hall of Fame candidacy, when just one inning earlier Costas himself suggested that he might be more than a mere Hall of Famer—a "historic" player. Sorry, those were just the thoughts of unidentified scouts, discussing just one of many possible scenarios, all of them equally probable in Costas' world of equivocation and qualifiers. No one deploys the phrase "on the other hand" quite like Bob does.
After last night, Strasburg's talent is unquestionable. Pirates or no Pirates, that was the performance of a seasoned veteran in total command of his abilities. (Having Ivan Rodriguez calling the shots certainly won't hurt his education, either.) He actually got stronger as the game progressed, allowing no baserunners after his two-run homer and never even coming close to a walk. Hell, if Costas wants to say he's better than Johnson right now, that's his privilege. What I find astonishing is the total lack of self-awareness. Bob Costas did more in just nine innings to craft the Legend of Stephen Strasburg than a lifetime supply of Baseball Almanacs ever could. Yet, he wants to use his same breaths to tsk-tsk the big bad media for losing their heads over the man. If you can't restrain yourself, Bob, why should anyone else?
And the condescending jibes at the flailing Pirates (and their fathers) should be far beneath the aging scholar of our pastime. They know they're terrible. You don't have to be a prick about it.
G/O Media may get a commission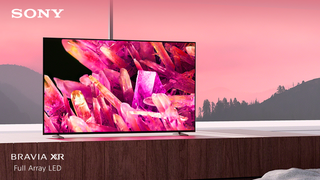 $400 off
Sony 55 Inch 4K Ultra HD TV X90K Series
[Video via MLB Network]