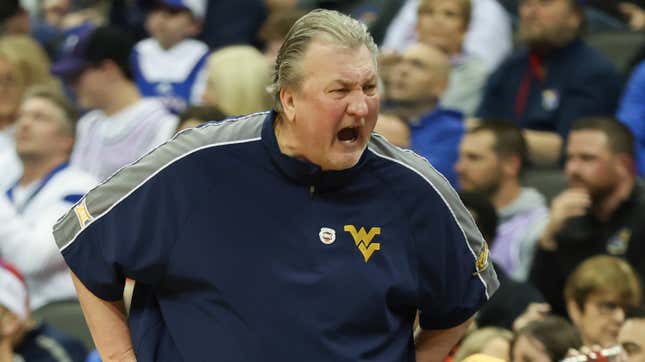 Sports and politics have always served as the smoking gun when it comes to proving that white male privilege is a real thing. It's the reason why all of our presidents — besides one — have been white men, and why that same demographic dominates head coaching positions in sports. On Wednesday, the latest chapter of "White Men Can Get Away With Anything" was written. West Virginia didn't fire Bob Huggins after he called Xavier fans "Catholic f**s" on a radio show. CNN didn't cancel its Town Hall with Donald Trump a day after he was found liable for sexually abusing and defaming E. Jean Carroll.

Jemele Hill's inspirations during her sports journalism career
It's all connected.
Huggins gets to keep his job, but has agreed to a million-dollar salary reduction, a three-game suspension, and some sensitivity training." In other words, he's out of some cash, gets a mini-vacation, and has to listen to people tell him why it's not nice to use gay slurs. This is what they call a punishment in Morgantown — especially when you're an alum.

Wednesday was also the day Trump — a man who was once caught on tape saying he grabs women "by the pu**y," and had at least 26 sexual misconduct allegations against him — had a Town Hall on CNN, a day after a jury found that Carroll had "sufficiently proved that Mr. Trump sexually abused her nearly 30 years ago in a dressing room of the Bergdorf Goodman department store in Manhattan," according to the New York Times, in a case in which she was awarded $5 million in damages.
This is what happens when people feel like they've "gotta hear both sides" despite one side having a proven track record of having nothing of worth to say. But, this isn't just about a school holding on to a Hall of Fame basketball coach, or a network hoping that putting a former President — who's twice-impeached — that's facing multiple ongoing investigations during a Presidential bid will make the MAGA crowd run back to their channel for news. It's about the continued enabling of one segment of people, and how their history of rarely being held accountable brought us to this moment.
Fear is the culprit. You can go a long way when people are intimidated by you.
"That's how Trump became president. That's exactly what happened. We got rid of bullies, a real bully showed up, and nobody knew how to handle him," Chris Rock said in his 2018 stand-up special Tamborine, which could also apply to Huggins in some ways.
On Valentine's Day in 2011, Syracuse had lost two straight and was in the middle of a three-game home losing streak. The Orange rallied late to beat Huggins and West Virginia 63-52 that night at the then-Carrier Dome. When Huggins walked into the media room for the postgame press conference there was an immediate hush. "We didn't make shots and we turned it over 16 times," an ESPN recap recorded him saying during his opening remarks. "We turn the ball over 16 times, we're not going to win."
He didn't take a single question during the press conference that night.
Why?
Because most were too scared to ask him anything after a loss. I watched from the back of the room as reporters squirmed in their seats. After the room fell quiet for a few seconds because no one had anything for him, he turned around and walked out. Silence can be deafening.
It's kind of like that time Trump pressured Georgia Secretary of State Brad Raffensperger, a Republican, to cheat for him by overturning the state's presidential election results on a call in January of 2021.

The circumstances and the stakes were different, but the vibes were the same. Two men using their presence and reputation as tools to get people to do what they want, or make it known that the room was theirs — even if they were the visiting coach.
In a perfect world, Bob Huggins would have been fired, and CNN would have canceled Trump's Town Hall. But, as we know, this world is far from perfect. If this was a utopian society gay slurs wouldn't exist, and neither would people like Donald Trump. Wednesday was a reminder that we live in a world where white men thrive and are rarely held accountable in the same ways that women, Asians, Black, and Brown people, and the LGBTQ community are. The middle of the week wound up being a win for the bad guys, and evidence that Glen Kuiper will one day be back on the air calling games for the Oakland A's again.