FIFA held its presidential election in Zurich today—two days after the United States Justice Department arrested a number of its officials on various charges—but it had a few additional issues to discuss beforehand. ESPN's Bob Ley, who sounded like he had been awake since the start (which would be about 4:30 a.m.), was impatient that the association couldn't even follow its own agenda.
Ley showed the agenda to the viewers at home, pointing out exactly where FIFA deviated from their own schedule to go back to another issue instead of progressing with the election. Jeremy Schaap playfully tried to calm down Ley, advising him not to get frustrated with the circus.
"I'm not frustrated," Ley, a man who looked pretty frustrated, said. "I just want to make the point."
So, he did. What does Bob Ley think of your stupid agenda?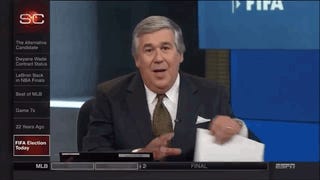 Fuck your agenda, FIFA. Bob Ley out.
Video via @CorkGaines
---
Contact the author at samer@deadspin.com.