DeMarcus Cousins is seven feet tall. He weighs, conservatively, 275 pounds. Here he is, doing pretty much all of the basketball stuff, in a single glorious ramshackle possession:

Handling the ball in transition. Dishing to a teammate streaking to the corner. Corralling a loose ball in a forest of arms. Muscling the ball up to the rim. Hauling in the offensive rebound, and scoring on the putback while being fouled. He looks like a teenager playing with the kindergarteners at his little brother's birthday party.
His Pelicans still don't win all that much, coming up on nine months after the trade that brought Cousins over from Sacramento and gave New Orleans, in him and fellow absurdly skilled giant Anthony Davis, the NBA's hugest and most fascinating frontcourt. They're a middling 8-7 right now, seventh in the West; they lost to the Raptors last night in the game that gave us that GIF up there. The math basically goes like this, pretty much every night: Cousins and Davis wreck shit and go off for like 50-25-5-5 between them (on the season they're combining for a hilarious 53.6 points, 25.1 rebounds, 8.6 assists, 3.7 blocks, and 3.3 steals per game), and if so much as, like, any two of their dozen bummy no-account-ass teammates show up and convincingly imitate actual NBA players, they have a good shot at winning. What's simultaneously frustrating and pretty dang funny is that that only happens around half the time. The roster-building project has not gone real great in New Orleans.
But amid the indifferent results, man, the Pelicans are wonderful to watch. I think I've watched them more than any non-Wizards team so far this season. I cannot recommend them strongly enough, if only for the possibility that you will witness Davis and Cousins going coast-to-coast together in transition. This has happened a few times so far this season, and it's never less than awe-inspiring, a pair of enormous monsters roaring upcourt off a defensive rebound or turnover and overwhelming some poor backpedaling suckers who simply aren't big or strong or fast enough even to hack them effectively.
G/O Media may get a commission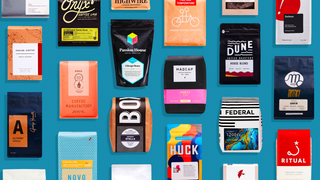 Get $25 free
Trade Coffee - National Coffee Day
A really fun, interesting thing is happening as Cousins and Davis figure out how to thrive together. You might have expected—I think I did—that Davis, with his springy athletic range and solid spot-up game, would gravitate toward the perimeter to make room for Cousins, by far the wider and more physically rugged of the two, as well as the one with the more sophisticated back-to-the-basket scoring game. And to be sure, that does happen sometimes. But the bigger-picture adaptation is, Davis has basically stuck to his role as a high-post and pick-and-pop big, while Cousins, improbably, is blossoming into Earth's Largest Point Guard.

It's true! He brings the ball up. He initiates the offense from the top of the key. He drives and kicks the ball out to shooters in the corner. He feeds entry passes to Davis in the post. He has attempted 58 more three-pointers than any other Pelican. And when the team's clunky, grinding scripted actions fail—they usually do, because the non-Davis non-Cousins Pelicans are basically no threat to do anything—its best bet, more often than not, is to have Cousins isolate his man way out on the wing and break him down off the dribble.
These are some of the most entertaining sights in the sport, right now: Rambling damn-the-torpedoes improvisations, equal parts ballhandling grace and bullheaded battering-ram power, like if mid-'00s Manu Ginobili were the Incredible Hulk. The best ones are when Boogie bashes his way into the restricted area and then just tip-drills the ball to himself off the rim until a putback goes in or the refs (who still treat him worse than just about any other current player) finally blow a whistle.

I guess I could go into an eggheady basketblogger spiel about, like, this reflecting how the modern game values certain discrete skills in vastly different ways than it used to, but that's not really what's important here. What's important here is that it's fucking awesome to watch. Cousins is a runaway dump truck that might just throw a slick spin move at oncoming traffic, or pop a step-back trey in its mug. What a fucking cool thing to be.
But sometimes, also, he and Anthony Davis are just a pair of really friggin' tall dudes who can chuck the ball to each other over top of all these puny lil' earthlings, like mischievous uncles.
I don't know how this is going to work out, or if it will. Their teammates stink, the West is a murder gauntlet yet again, and Cousins will be a free agent next summer; if shit gets rocky between now and February, he may well get traded. There's been speculation already. But man, in the meantime, if you can, watch the Pelicans. Maybe root for them, too. Because there's definitely never been anything quite like the Boogie Cousins-Anthony Davis duo—and if they can't make it work, there almost certainly never will be again, and that will be a bummer.