UPDATE: Late on June 23, Nike dropped their breach of contract suit against Boris Berian, not because they were wrong or because the bad PR had reached toxic levels, but as a consideration of the stress the suit was causing Berian. Or Boris, as the congenial Nike spokesperson likes to call him.

"Nike legitimately exercised its right to match the New Balance offer and believe we would prove this at trial," the company said. "As a running company, we also recognize that this is a significant time for Boris and in light of the judge's decision to delay the ruling until June 28th, the eve of the Olympic Trials, we decided to eliminate this distraction for Boris."
Berian will compete in the upcoming Olympic Trials in New Balance gear, but if he goes to Rio, he'll be attired in in the officially swooshed Team USA kit, as in the photo above.
Track and field athletes won too, in that they now know exactly how much a top 800-meter runner earns, Berian's bonus for winning an Olympic gold medal ($150,000), that if you really want to haul in the cash you'd best brush up your golf game, and that reductions are only standard on Nike contracts.

The original story is below.
---
Sports agent Hawi Keflezighi referred to himself and his client, 800-meter runner Boris Berian, as David, and Nike as Goliath in a recently established crowdfunded campaign to help cover Berian's legal fees. In addition to working public sentiment and publicizing a landmark case for track and field athletes' rights, Keflezighi hopes to raise $25,000 for slingshot ammo.

G/O Media may get a commission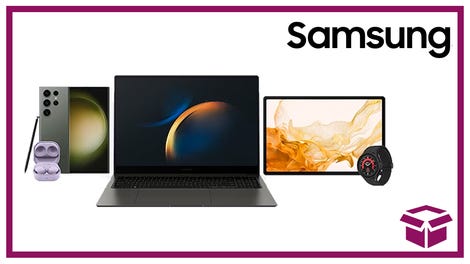 24 hour deals
Discover Samsung - Daily Deal
To recap, in June of 2014, Berian was living with a friend, flipping burgers for a paycheck, and training on his own at night. In June of 2015, having joined the very small Big Bear Track Club, he turned heads by finishing second to world record holder David Rudisha in a Diamond League meet. Nike offered him an endorsement contract that expired at the end of 2015. In keeping with the contract's first right of refusal, Berian's agent, Keflezighi, sent Nike a three-year, guaranteed $375,000 offer from New Balance in January 2016 that contained no reductions.

Then followed a lot of he said-she said nastiness. Nike claims the Berian/Keflezighi camp made it impossible for them to exactly match New Balance's offer by refusing to clarify the issue of reductions, a feature Nike considers standard on all endorsement contracts. The sportswear Goliath said they had every intention of matching New Balances' offer, even to the extent of removing the reductions if need be. Keflezighi said they took Nike's resending of a long form contract with reductions still attached as a less appealing counter offer, which they declined.

District Court Judge Marco Hernandez pushed back his decision on whether or not Berian violated the terms of the 2015 Nike contract to June 29, just two days before the start of the Olympic Track Trials.

If the judge rules in favor of Berian/Keflezighi, Berian can continue to sport and endorse New Balance through the three qualifying rounds he'll run at the Trials. If the court decides in favor of Nike, he'll be forced to swoosh head-to-toe throughout the 10-day selection competition, though he hinted he'd consider retiring from the sport before running for Nike. Of course, if he makes the Olympic team, he'll be wearing Nike clothing anyway, since that company is the official gear sponsor of Team USA. While Olympic athletes must wear official Nike clothing during competition, they're free to wear the footwear of their choice in Rio.

But this kerfluffle is about much more than accoutrement.

Associate Professor of Sports Law at the University of South Carolina John Grady said, "It's rare for a global brand like Nike to sue an athlete with whom they had an endorsement relationship."
And indeed, social media users have been quick to point out how unusual it is, bizarre even, Nike's determination to punish Berian—a very small pony in their worldwide sports stable—and at the same time force him to represent the brand (I've said before, Nike Public Relations must be hell on earth).
To the best of my research, any track and field athlete who had the misfortune to run afoul of their Nike contract previous to this sucked it up and ate bitterness rather than face Nike's slavering legal team and ruinous court costs. I hope someone will correct me, but Berian appears to be the first track athlete to face Nike's wrath and the accompanying legal fees. The Beaverton-based company practically owns the relatively small, low-revenue sport of track and field: it seems they're using Berian's case to defend their plutocracy and discourage other athletes from such defiance.
Or, as most of the commenters at #FreeBoris call it—bullying. But Nike's bullying is neither new in track and field, nor has it proven useful as a catalyst for change. What is new and useful is public knowledge of the murky, secretive world of track and field endorsement contracts. Nike vs Berian has already outed salaries, bonuses, and what is and isn't standard in sponsorship contracts. That's right folks, before this came out a few weeks ago, top runners, coaches, insiders in the sport, did not know how much other athletes were paid, nor the criteria for and amounts of bonuses and reductions.

In support of Berian, for example, CEO of Oiselle, Sally Bergeson, and Jesse Williams, sports marketing manager for Brooks, filed statements saying that what Nike called standard operating procedure was anything but.
Williams wrote, "In the twelve years that I have been at Brooks, we have not signed any athletes to a contract with reductions."
Knowledge truly is power. Isolation and ignorance kept track and field independent contractors from knowing a bad deal when they saw it, and Nike's well-funded legal team was always at the ready should some foolish athlete publicly question his contract. None of this information would have come out had Berian and Keflezighi not dug in their heels.

Hopefully the information that comes out in this case will spark real change for track and field athletes' rights, rather than devolve into impotent Nike bashing. As Keflezighi wrote on the #FreeBoris donation web page, "This is not an Anti-Nike campaign. Nike has done so many great things in the sport of running. But in this case, we are in disagreement on the issue and the tactics."
Berian's legacy could go a lot further than 800 meters, and last longer than one minute, forty-some-odd seconds.