After generations spent competing on the international stage for various iterations of Yugoslavia, after gaining independence in 1992, making it through the Bosnian War, then getting FIFA recognition mere days after the war's conclusion, the nation known as Bosnia-Herzegovina will finally make its first appearance on the biggest stage of world soccer. Oh yeah, and they can win.
Before there was a Bosnia and Herzegovina—and before there was Croatia, Serbia, Slovenia, and the rest of those slavic states we tend to only think about in middle school geography classes and international sports competitions—most of the peoples along the eastern shore of the Adriatic Sea represented Yugoslavia. Either the Kingdom of Yugoslavia or the Socialist Federal Republic of Yugoslavia, but Yugoslavia nonetheless.
As is wont to happen, amassing a bunch of divergent ethnicities under one banner made a perfect recipe for civil unrest. By the late 80s, it became apparent that the Croats, Serbs, Bosniaks, and Slovenes that made up Yugoslavia wanted countries of their own. Slowly but surely, the country broke off into new nations like Croatia, Slovenia, Macedonia, Kososvo, and Bosnia-Herzegovina.
Even then, the ethnic fault lines were not so easily segmented by these new borders. Bosnia-Herzegovina in a 2000 estimated census was 48% Bosniak, 37% Serb, 14% Croat, and about 1% other. Thus erupted the Bosnian War during the early years of Bosnia-Herzegovina's independence, an incredibly destructive few years that shaped the youths of many of the men who represent the country today. As star striker Edin Džeko noted in Manchester City's prematch program describing where he came from:
I had a very sad childhood in the middle of a siege. Our house was destroyed so we had to move in with our grandparents in Sarajevo. The whole family – maybe 15 people – were crammed into an apartment of 35 square metres. I was only young and I cried often. Every day you could hear the guns firing.
G/O Media may get a commission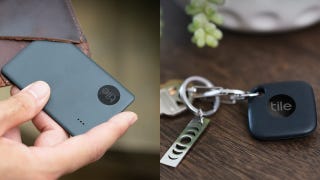 Up to 35% off
Tile Item Trackers
When the smoke cleared and the fighting stopped, one of the first things the country tried to do was make their national soccer team official. Just over a week after the peace treaty was signed, Bosnia-Herzegovina suited up in their first international friendly against Albania. The hastily-assembled team sported tops they had bought from a sporting goods store in Zagreb the night before.
It wasn't smooth sailing from that point on. Selecting from a pool of only Bosnians-Herzegovinians greatly limited the strength of their team as opposed to the old Yugoslavia days. In addition, some players preferred to play for Croatia or Serbia, choosing ethnic allegiances over national ones. In light of this, the country didn't qualify for a single World Cup or European Championship from 1998 to 2014.
Bosnia-Herzegovina are the only World Cup debutants making their way to Brazil this summer. But they won't just be happy to be there; they know they can do some damage in this tournament. Behind the lethal strike duo of Džeko and Vedad Ibišević, the creative talents of Miralem Pjanić, and in front of longtime Premier League stalwart Asmir Begović, Bosnia-Herzegovina are a team to fear in Group F and beyond.
At the very least, BiH will feel confident of its chances to pick up three points against every Group F opponent, save Argentina. Argentina are the huge favorites to win the group, but after them, it's a toss-up between BiH and Nigeria, with BiH being slight favorites. The outcome of that matchup probably decides this group and will determine just how memorable an inaugural World Cup this ends up being for the Dragons.
Roster
Goalkeepers: Asmir Begović (Stoke City), Jasmin Fejzić (VfR Aalen), Asmir Avdukić (Borac Banja Luka)
Defenders: Avdija Vršajević (Hajduk Split), Ermin Bičakčić (Eintracht Braunschweig), Emir Spahić (Bayer Leverkusen), Sead Kolašinac (Schalke), Ognjen Vranješ (Elazığspor), Muhamed Bešić (Ferencváros), Mensur Mujdža (Freiburg), Toni Šunjić (Zorya Luhansk)
Midfielders: Miralem Pjanić (Roma), Zvjezdan Misimović (Guizhou Renhe), Izet Hajrović (Galatasaray), Senad Lulić (Lazio), Senijad Ibričić (Kayseri Erciyesspor), Haris Medunjanin (Gaziantepspor), Edin Višća (İstanbul BB), Anel Hadžić (Sturm Graz), Tino-Sven Sušić (Hajduk Split), Sejad Salihović (Hoffenheim)
Forwards: Vedad Ibišević (Stuttgart), Edin Džeko (Manchester City)
Nickname
Zmajevi (Dragons), Zlatni Ljiljani (Golden Lilies)
FIFA World Ranking
21
Manager
Safet Sušić
Players to Watch
Edin Džeko, Striker
It's probably not a coincidence that Edin Džeko's last season with Manchester City was both his most difficult and his best. City brought in a new manager, preaching a new, more technical and possession-based style of play, and a new striker named Álvaro Negredo to take Džeko's starting gig. In the face off all that, Džeko went on to exhibit the kind of goal scoring acumen and versatility that made him such a hot commodity when he was first brought to England.
Džeko is a poacher, but he's also more than that. Most poachers get that reputation for somehow finding themselves in dangerous positions and finishing off easy chances for reasons that aren't readily explicable. All they can do is score, but you don't know why they score, yet score they continue to do.
When you watch Džeko, on the other hand, you know why he scores. Like most big guys, he has the strength to fight for possession of the ball and muscle his way in on goal, as well as the aerial ability to nod in a handful of crosses every season. But he is also unnaturally agile (he began his career as a midfielder, after all), is a willing passer, and knows how to time those little give-and-go runs so that one of City's spider-eyed midfielders can spot his run and send him through on goal and onside.
For the less technically gifted Bosnian-Herzegovinian side, Džeko will have to rely more on his strength and heading for goals, but also his passing and creativity to work for the team. With his breadth of skills, though, Džeko can thrive in attack no matter what is asked of him.
Miralem Pjanić, Midfielder
Miralem Pjanić has been a star-in-waiting for a while now, and the wait is now over. For a Roma team that took Serie A by storm, Pjanić was the brightest budding star on a team full of them. His style of play is most reminiscent of fellow young superstar, Bayern Munich's Thiago. Both guys have the speed, technique on the ball, Houdini-esque dribbling ability, and eye for the unlocking pass to play as attacking midfielders or even wingers, but are most comfortable in the center of the park where their influence can be felt the most.
Pjanić is a flat-out amazing dribbler. It doesn't matter who's on him or where he is, with just a couple flicks from his twinkly toes, Pjanić can skate right past his man en route to the goal.
Dribbling isn't even his best skill, either; that would be his passing. There isn't a pass on the field that Pjanić can't make. Most field players are either safe, volume passers who knock the ball around mainly to maintain possession and create tempo, or risky attacking players who don't complete as many passes, but do rack up the assists when their audacious chips and flicks do come off. Pjanić was the only Roma player in the top five of per game total passes, key passes, assists, long balls, through balls, and crosses, showing how crucial he is in all facets of the game.
For country, Pjanić's role is even more important. Though Bosnia-Herzegovina are talented, the gulf in class between Pjanić and his other midfielders is much more stark for them than for Roma. BiH might eke their way out of the group with a mediocre display from their most creative player, but if they are to push for any more than that, he will have to play as well in blue and white as he does in yellow and red.
Tactics
Bosnia-Herzegovina are very much a team with an identity.
They know they aren't fast, but they don't have to be. Not with the measured way they build up play on the ground and from the back. Despite Džeko's obvious target-man qualities, BiH don't rely on lofting long balls to the big man and instead play the ball into his feet. If the 10 goals he scored and the 30 the team scored in qualifying are anything to go by, BiH get by just fine this way.
As is often the case with the smarter teams, possession starts in the back. There, center half Emir Spahić shows no discomfort in carrying the ball out of the back, spraying passes through the channels.
For as involved in the passing game as Spahić is, it'd be easy to mistake him for a central midfielder—that is, until you look behind him and see only a fellow center back and the keeper. His ability to blur those lines is crucial to the Bosnian-Herzegovinian attack.
The Dragons keep the ball glued to the floor, wheeling around a three-man central midfield axis that keeps space open atop opponents' 18-yard box.
Zvjezdan Misimović plays atop the midfield triangle, backed by Pjanić and Haris Medunjanin—tentatively. Pjanić is slightly more tethered to the deep role. Misimović has the freedom to play as a secondary or tertiary striker and Medunjanin roams to the deep left. Still, there is a lot of interplay and fluidity to the midfield. All rotate frequently enough that their gradual runs can't be man-marked. And with Spahic able to facilitate from the center circle, at least two of the central midfielders can always be pushing up in attack.
In the forward positions, Džeko leads the line, flanked by former Saint Louis Billiken Vedad Ibišević on the right and Senad Lulić on the left. If forced to lay out Bosnia's formation geometrically, it's 4-2-1-2-1. In practice, however, Džeko switches between strike partnerships with each of Ibišević, Misimović and Lulić.
He will even occasionally drop off into the hole, sucking in center backs and deferring to teammates that, while not thought of as particularly fast, do an efficient job of exploiting space in wide areas.
---
Like most teams, Bosnia-Herzegovina push their full backs up for width. Unlike many, though, this gives BiH a second overlap option on either wing. For instance, with the ball on the right, Bosnia can set up as follows:
---
The same is true down the left:
---
The best part for BiH, and the reason the team's lack of blistering pace is more than made up for going forward and not terribly taken advantage in defense, comes back to Spahić.
He's pushed up more than most center backs, but the defensive line being set by his partner, Ermin Bičakčić, isn't that high.
So when Bosnia-Herzegovina lose the ball, they can compress the field on the opponent with less of the risk. All that said, the Dragons are still susceptible to the kind of blistering counterattacking talent they didn't face in World Cup qualifying but will see in the likes of Argentina and Nigeria. This could detonate this finely tuned system. Until evidence to the contrary arises, though, BiH will go ahead as planned. They know who they are and know that their system works.
Group F Fixtures
All times Eastern
June 15, 6 p.m.: Argentina vs. Bosnia-Herzegovina at Maracanã
June 21, 6 p.m.: Nigeria vs. Bosnia-Herzegovina at Arena Pantanal
June 25, noon: Bosnia-Herzegovina vs. Iran at Arena Fonte Nova
Complete Group F Previews
Argentina | Nigeria | Iran | Full Archive
---
Screamer is Deadspin's soccer site. We're @ScreamerDS on Twitter. We'll be partnering with our friends at Howler Magazine throughout the World Cup. Follow them on Twitter, @whatahowler.
Top image by Sam Woolley; photos via Getty