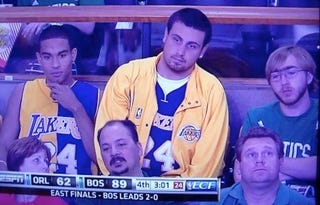 Because no one reads the newspaper, and SportsCenter's anchors are too perky for this early in the morning, Deadspin combs the best of the broadsheets and the blogosphere to bring you everything you need to know to start your day.
•So, has it been a thrilling enough conference final round? Not really, but that doesn't matter much since it's almost over. The Celtics won a 94-71 beatdown, and are a game away from sweeping the Magic. (And four games away from going the way of the Bruins.)
•The Flyers are a game away from being the first chalk in the east to move on, thanks to Michael Leighton's third shutout of the series. Bad news for Montreal police: three nights of potential riots (loss in 5, loss in 6, and game 7, win or lose.)
•The Spanish press is reporting that Jose Mourinho has already agreed to a four-year deal with Real Madrid, less than a day after leading Inter to a treble. Fricking' vultures, at least let the champagne hangover wear off. Or maybe not; if he's still a little drunk, maybe Blackpool can get him aboard.
•Mark Cuban was fined $100,000 for his comments on LeBron James. Because it's clearly illegal tampering to suggest that some teams might enjoy having the best basketball player alive play for them.
•Rafael Marquez evened boxing's best rivalry at two fights apiece, scoring a third-round TKO over Israel Vazquez. It's appropriate that the match was held at the Staples Center, because, holy shit, did you see Vazquez's eye?
•••••
Good morning, it's Sunday. Make every one count.