The Boston Globe has concluded its reviews of columnist Kevin Cullen's work and will suspend him for three months without pay, after WEEI radio host Kirk Minihane scrutinized Cullen's column on the anniversary of the Boston Marathon bombings and found several inconsistencies.
Globe publisher John W. Henry and editor Brian McGrory released a statement Friday regarding Cullen, who had been on paid administrative leave since April. After he serves his three-month suspension, he'll return as a general assignment reporter for two months before going back to being a columnist. "[Cullen] will be barred from outside broadcast interviews for the first six months after his return, and subsequent appearances will be given heightened editorial scrutiny," the statement read.
When Minihane went through Cullen's column on his radio show in April, he noted how Cullen hadn't actually been present when the bombs went off but wrote his column as if he were there. Minihane also pointed to the Globe reporter's inaccurate retelling of a story about then-7-year-old Jane Richard. Jane's 8-year-old brother Martin was killed, and her father Bill and mother Denise were injured from the blast. In a radio interview on BBC, Cullen said his friend, a firefighter named Sean, carried Jane to an ambulance before realizing that her leg was missing. He also said Bill Richard was running the marathon and hugged Martin before the bombs went off. The person who carried Jane to an ambulance was actually off-duty first responder Matt Patterson, who said he hadn't spoken with Cullen; Bill Richard was not even registered to run the marathon that year.
The Globe's review of this specific column, conducted by retired AP executive editor Kathleen Carroll and former Miami Herald executive editor Thomas Fiedler, found that Cullen didn't have a good excuse for the screwups regarding the Richard family. Cullen repeated a factually inaccurate story about Jane Richard across a number of interviews in the aftermath, and although Lieutenant Sean O'Brien did exist, he did not support Cullen's claim.
When we interviewed Mr. Cullen for this report, he said he couldn't recall who told him that the finish-line story was incorrect, but presumed it was "someone who knew the Richards." He said he told an interviewer for NPR's "All Things Considered" program later on April 16, 2013 that he had gotten the story wrong, and that segment wasn't aired.
Also incorrect was Mr. Cullen's repeated account of the firefighter (whom he identified in some interviews as "Sean") carrying the injured girl to the ambulance and discovering that a lower leg was gone. Of particular concern is the detail Mr. Cullen gave to the News Talk Breakfast program that "Sean" told Mr. Cullen in a phone conversation that he returned to site, crawling "on hands and knees" in a vain effort to find the limb so it could be reattached. All of that was disputed by Lieutenant O'Brien in an interview with Globe editors, a transcript of which was given to us for this report. In fact, television news reports at the time identified a different firefighter, Matt Patterson, who was at the site, though off-duty from the Lynn Fire Department, as the one who rescued Jane Richard.

In the interview with Globe editors, Lieutenant O'Brien denied speaking with Mr. Cullen at any time Monday, by telephone or otherwise. Indeed, he said he doesn't think he had ever met Mr. Cullen until the day after the Marathon bombing when Mr. Cullen came to the fire station to interview him and other firefighters. He said the story of him rescuing Jane Richard and searching among the debris for her severed limb was "crazy."

When we related this to Mr. Cullen, he said he couldn't recall what he said in these media interviews, including his accounts of Sean O'Brien's role. "That's the reporting I was getting that day," Cullen told us. "I was getting this from other firefighters who would have known. The story that was being told to me was that Sean O'Brien picked up the girl and went back to look for her leg."

He said he had no memory of saying that he had spoken by phone with Sean O'Brien in a conversation that included the dramatic exchange where he said he tried to calm down the distressed firefighter who hoped the girl's severed limb could be reattached. Nor could he recall the identity of the firefighter who Mr. Cullen said refused to join him for a drink at the Eire Pub because he was trying to scrub blood from his fingernails. "These were interviews I gave when I'd been up all night. I'd been drinking. And I was really upset," he said.
G/O Media may get a commission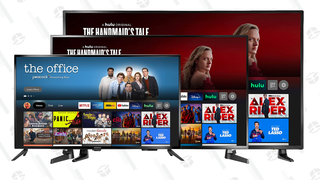 Up to 44% off
Prime Early Access - Insignia Fire TVs
While Carroll and Fiedler determined Cullen did not intentionally make his readers think he was there when the bombs went off, because he was describing iconic images seen all over the news, they did say that he should've clarified this by mentioning that he was watching these images on television.
The Globe also conducted a second review and reviewed a random selection of 100 articles written by Cullen spanning 2012 to 2018. The investigators there found small errors such as misspelled names, but no serious fabrications or made-up sources.