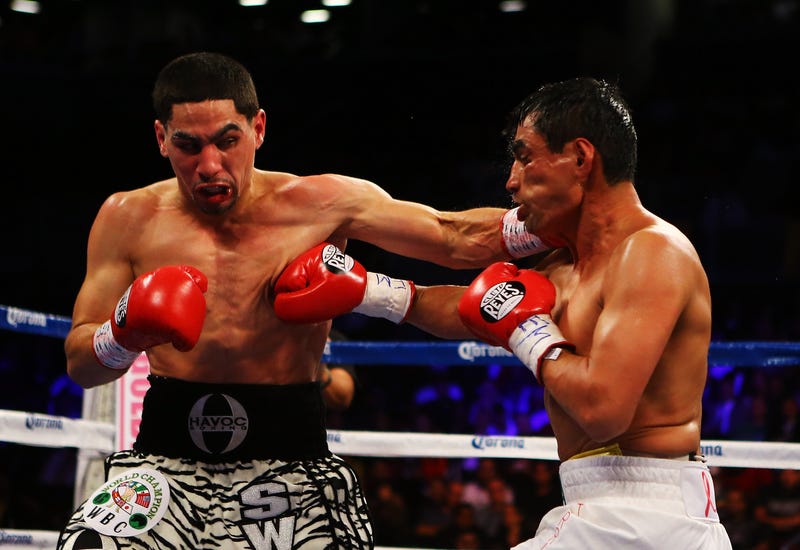 During the run-up to his fight against Danny Garcia at the Barclays Center Saturday night, Erik Morales failed two consecutive drug tests, testing positive for clenbuterol, the PED that got Alberto Contador stripped of the 2010 Tour de France title. He then passed a drug test on Friday night, meaning that he hadn't officially violated the three-strikes-and-you're-out drug testing policy of the New York State Athletic Commission. The proposition was put to Garcia: would you rather fight Morales for a chance at a million dollar payday, even though he's likely (definitely) on the juice, or forget about the money and avoid getting in the ring with someone on steroids?
Garcia chose to go ahead with the fight, and won. Morales was fighting from behind the whole time, and Garcia ended it with a KO in the fourth round, sending Morales falling against, and then through, the ropes. Regardless of Garcia's success, the Daily News isn't convinced that the fight should have gone forward as planned:
The timing of all this is fishy. Morales failed drug tests taken by USADA on Oct. 4 and Oct. 10. Richard Schaefer, CEO of Golden Boy Promotions, said they were informed on Tuesday about the failed tests. The New York State Athletic Commission was informed on Wednesday.

All of a sudden the promoters and the NYSAC were scrambling to get results from a third test taken on Wednesday shipped to New York from Salt Lake City on Friday to determine whether to allow Morales to fight [...] Knowing what the stakes are with the inaugural show at the Barclays Center, it is tough to swallow the legitimacy of a third test of Morales as being negative.
The implication is that the third, clean test—the one that left the fight's fate up to the Garcia rather than canceled by dint of the hard-and-fast three strikes rule—was sort of a farce. With tickets sold for the Barclays Center's inaugural fight night and a big payday on the line, Golden Boy Promotions and the NYSAC teamed up to make sure the fight would happen. It's impossible to know whether any actual back room scheming took place, but this is boxing—would it surprise you?
Either way, it's the clean boxer who came away with the victory, so the lesson here is probably that Morales should probably have done a whole lot more clenbuterol. He was going to get away with it anyway, and it may have helped him get past the fourth round.
Erik Morales Fiasco Before Barclays Center Bout Proves Three Strikes And You're Out Is No Way To Run A Drug-Testing Program [NY Daily News]
Garcia Sends Morales Reeling [ESPN]