In addition to revealing the Astros as shitty jerks, the Brady Aiken saga has also reminded the world of the existence of one of the NCAA's silliest and most farcical rules: players like Aiken aren't allowed to hire agents for MLB negotiating purposes if they want to retain collegiate eligibility. Thanks to the Astros' fuckery—and, of course, the greater and more persistent fuckery of the NCAA—there is a real chance that this rule could prevent Aiken from pitching at UCLA, where he committed before the draft.
The best sports movies according to Toheeb Jimoh
Throughout his negotiations with the Astros, Aiken was assisted by Casey Close, a high-powered agent—he represents Clayton Kershaw and Derek Jeter—masquerading as an "adviser" for the sake of keeping up appearances. (In situations like this, everyone agrees to pretend that operators like Close are well-meaning friends of the family, something like an uncle who happens to have a background in negotiating nine-figure contracts with major league teams.) This is a charade in which almost every draft pick participates, and nobody gets in trouble unless someone goes tattling to the NCAA, as the Phillies despicably did after they failed to sign Ben Wetzler.
G/O Media may get a commission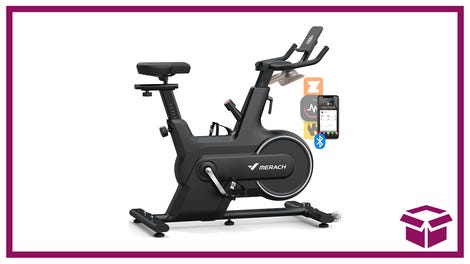 14% off + Coupon
Merach Indoor Cycling Bike
The Astros haven't yet sold Aiken up the river as the Phillies did Wetzler, but there's been a noticeable shift in how Astros GM Jeff Luhnow has gone about discussing the negotiations. Here's how he characterized their communications at the start of the month, before things started to fall apart:
"The conversation's with the family," Luhnow said. "Whether or not the player has an adviser and to what capacity, that's not my (subject to comment on). … Eligibility is at risk if they have an agent. You can have an adviser, yeah. Certain behaviors might constitute one versus the other. We don't comment on conversations. Our conversations are all with the families – the player or the families. In the case of an underage player, the family's important."
Note how Luhnow goes out of his way to make clear that in no way is he talking to high-powered agent Casey Close about this subject, which, OK. Anyway, after shit hit the fan and the Astros lost Aiken, a different story emerged:
"Basically, we tried to engage the other side, Casey Close three times today. Made three increasing offers and never received a counter, really they just never engaged, for whatever reason there was no interest. There just didn't appear interest to sign on their side."
There's no real reason to think this was anything other than careless choice of words on Luhnow's part. And the actual problem here is that the NCAA is cool with "advisers" who aren't (wink wink) allowed to engage in direct negotiations with teams, as Luhnow's second statement suggests Close did—a ridiculous farce that inherently makes liars out of everyone. Still, this statement could definitely come back to bite Aiken in the ass, given that the NCAA has more than proven itself willing to go to comical lengths to punish violations of its petty and absurd rules.
Meanwhile, there's also this report from Jon Heyman of CBS, which includes a play-by-play of a heated phone conversation between Luhnow and Close and acknowledges matter of factly that the two were negotiating with each other:
People who heard about Close's conversations with Luhnow said Close berated Luhnow for various perceived transgressions, accusing him of leaking the medical findings regarding Aiken that derailed the deal (he is said to have an issue with his left ulnar collateral ligament) and suggesting to him that players don't or won't want to deal with them because of the way they handle things.

Luhnow declined to confirm the content of their "conversations," and Close didn't respond to texts.

[...]

Perhaps Aiken was too annoyed with the Astros to accept any deal (after all, Close didn't even counter at all, even by repeating the $6.5 million original offer, sources say), but nonetheless, his decision inadvertently affected Nix.
Whoever's dishing here is presumably trying to further their own agenda and make their side look good, and whoever it it is should probably shut the fuck up, because their attempts at damage control are coming at the expense of Brady Aiken, a guy who has already been dicked over more than enough.