Ohio State head football coach Urban Meyer is currently on indefinite paid administrative leave while the university completes an investigation of reports that he knew of but did nothing about domestic violence allegations against assistant coach Zach Smith. Meyer is not dead; he is not in jail; he has not been exiled to the desert for 40 years; he has not been hounded from our midst in any meaningful sense. Moreover, per his own statement, Meyer was on board with the administrative leave, saying that it would "facilitate [the] completion" of the investigation. Given what has been alleged, Meyer is doing fine.
Probably no one in this story especially needs a rally of support on the OSU campus, and certainly not the guy collecting payments on a $6.4 million annual salary to sit at home and not do a job, while his employer tries to figure out whether he was apathetic about one of his assistants abusing and terrorizing someone. But sports fandom—all fandom, for that matter—is a fucking disease, and so here we are: some 250 deeply wacko Buckeyes fans gathered angrily outside Ohio Stadium Monday afternoon to chant and sing and wave signs in support of Meyer.

The number of people at this rally who, judging by their signs, seem to genuinely believe that OSU suspended Meyer on orders from ESPN brass is fairly distressing. It's worth mentioning that the reporter who has broken virtually all of the Zach Smith story did so on Facebook, because he was fired by ESPN.
G/O Media may get a commission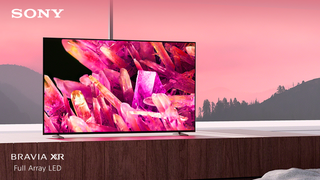 $400 off
Sony 55 Inch 4K Ultra HD TV X90K Series
Here is a baffling statement, issued by a man known as "Tennessee Jeff," who seems to be the leader and organizer of this sad farce:
"This has nothing to do with our ex-wide receiver coach, or the accusations against him, with his ex-wife. I don't want to talk about that! I don't condone what he's accused of, I don't condone any of that stuff! This is not why I'm here. That's not why I drove 12 hours and you guys are standing out in 95-degree heat—to talk about what he did or didn't do."
That is a narrow needle to thread there, Jeff. I don't condone domestic violence, but I will drive 12 hours to throw a support rally for a man who is accused of condoning domestic violence.

The big gripe of this crowd—who, again, assembled not to support a victim of domestic violence, but to defend the honor of the man who employed her abuser—is that Paul Finebaum said mean things about Urban Meyer on First Take. Jeff and his followers hope to counter Finebaum's mean things with, well, nice things:
"Are we gonna have people that are gonna push back? Sure we are! That's fine! But we're here for one reason, and that's to discuss what a good man our head football coach is, Urban Meyer."
That discussion largely seems to have taken the form of chanting:

Also there was singing:
It is no great surprise to see that a rally to defend the honor of a powerful man accused of actively participating in a culture that perpetuates violence against women features signs both mocking the #MeToo movement, and adopting the wildly cynical "Fake News" catchphrase of our deranged President. Also, Ezekiel Elliott's father was there:
"Anybody abuses women is not right, first and foremost. I would never—and I know Urban Meyer would never—condone a woman being abused."

"But! But! The truth of the matter, based on what we all know, he handled the situation according to how his job required him to."

Note: Here the word "know" is being used to mean "fervently believe," or even "insist." Actually no one in that crowd knows whether Urban Meyer would condone domestic violence, or that he handled the situation according to protocol, which is why there is an ongoing investigation. If they have firsthand knowledge to offer, probably they should get in touch with the university's investigators!

All that misplaced anger must surely be physically draining—frankly I am exhausted just having watched the videos. Thankfully, some anonymous hero sent in a delivery order of just the most perfect possible pizza:
Just a confused Papa John's delivery schmo wandering around looking for Urban Meyer rally stragglers to take these prepaid pizzas off his hands. Dang. Here's longer video of the rally, if you're interested.