Any day now, the NBA will teach Brandon Jennings to be studiedly bland and tactful. Until then, let's enjoy the glorious insolence of a 19-year-old rookie who says what we've all thought at one time or another: "Fuck the Knicks."
Jennings, who opted to play professionally in Italy last year rather than serve an unpaid internship in Arizona's backcourt, was last seen on Draft day making one of the more memorable sporting entrances not involving a paraglider. A few weeks ago, he lamely tried to play the dozens on Ricky Rubio's head. Many questions remain about him. Foremost among them now is whether he'll get John Hammond or Scott Skiles fired first.
Consider Jennings' exchange with a friend of his, rapper Joe Budden, about whom I know nothing but whom BlackSportsOnline helpfully describes as most famous for "putting his girl's ass on camera." BSO has the video for now. The Baseline's Chris Littmann has the heavily starred transcript:
On next season in Milwaukee ...

Budden: You better worry about Ramon Sessions, diggin' in your a**, pause.
Jennings: He's not going to be here. [inaudible] That money is going to Charlie.
Budden: N****, Ramon Sessions is gonna be there.
Jennings: I doubt it.
Budden: They ain't go no other guards.
Jennings: Ridnour.
Budden: N****, get that bum-a** n**** outta here.
Jennings: He's going to be a backup.
Budden: To who?
Jennings: To who? Who else n****?

On what happened on draft night ...

Budden: Who was hatin' on you?
Jennings: Jay Bilas.
Budden: What happened? You ran in the draft late or some dumb s*** like a loser?
Jennings: No, I was at the hotel. This is what happened right. My agent is like "Well, we ain't hear nothing .We ain't have no guarantee." So we makin' phone calls and s*** and n***** is saying like "The workouts is great and everything and he's the best point guard but we don't know yet, we just don't know."
Budden: They didn't say that about Rick Rubio, number one, and number two they didn't say you the best point guard. They said your jump shot is shaky, you got some potential, but your work ethic is bull****. You averaged 3 points.
Jennings: You're a liar. I know you're lying now.
Budden: I'm just telling you what they said.
Jennings: That ain't nothing but a college person.
Budden: Just tell me what happened. You end up running in the draft? I tunred it off after that.
Jennings: No, n****, I came out there and made my appearance n**** and I had the best appearance out of all them n******. And I was the best dressed, they said, by the way. I was the best dressed.

On whether he'll start next season ...

Budden: You think you gonna start for real though?
Jennings: I don't know, actually, I really don't know.
Budden: I heard that n**** Scott Skiles is an a**h***.
Jennings: That n**** tough, that n**** tough though. There must be a reason he liked me. There must be a reason.

On Ricky Rubio and the Knicks ...

Budden: Let me know when Minnesota get there. So I can watch Rubio light your f****** a** up. I never seen a n**** hate on Rubio so much.
Jennings: [inaudible]
Budden: You know what's funny? You're the only guard in the draft talking s*** about Rubio.
Jennings: The other n***** are scared.
Budden: What are you going to do when Rubio comes to the Knicks?
Jennings: Rubio is not coming, they are not giving up Rubio. You got Jordan Hill, you happy with that?
Budden: I don't really know enough about Jordan Hill to be happy ... I'm happy with Toney Douglas.
Jennings: I know they were booing this n****.
Budden: What does that mean? They boo everybody n****.
Jennings: If it was Stpehen Curry, them n***** would've went crazy in there.
Budden: Shut the f*** up, you don't even know nothing about New York basketball.
Jennings: F*** the Knicks, them n***** skipped out on me.
Budden: Oh man, you feel to the Knicks like I do about Jay-Z? [Laughs] Yo, the Knicks is your Jay-Z?
Jennings: F*** the Knicks, them n***** is always going to be weak.
Budden: This is where I f****** hang up on your f****** ass for talking stupid.
Jennings: Duhon ain't gonna get it done.
G/O Media may get a commission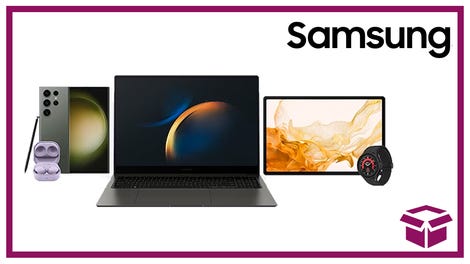 24 hour deals
Discover Samsung - Daily Deal
I know we're all supposed to be deeply appalled at the immodesty of our basketball youth, but you have to marvel at the sheer ballsiness of a 19-year-old who puts himself in his GM's shoes and non-tenders one player and demotes another, all on his own account. Jennings, I fear, is doomed to spend a long year in Coach Tough N****'s crowded doghouse.

Brandon Jennings & Joe Budden Prove Why They Both Are Potential Busts [BlackSportsOnline]
Social Media Biting Back at Brandon Jennings? [The Baseline]