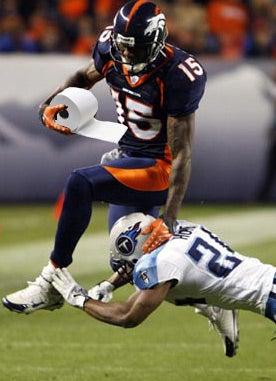 You might recall when Denver Broncos wide receiver Brandon Marshall said back in March that he hurt his arm slipping on a McDonald's bag. That turned out to be a fib; he was just roughhousing with some family members and accidentally put his hand through a TV screen. But now it's June and he looks almost ready for the NFL season. Well, almost.
Reporters asked how the progress was going on his right arm rehab:
I can do everything with my right hand that I was doing before the accident but I'm still wiping my butt with my left hand.
There's also video of this response to reporters as he's sitting down. You can't see the lower half of his body. I sure hope he's not ... oh, wait, there's his left arm. Phew.
Broncos' Marshall Enthused About Recovery [Colorado Springs Gazette]