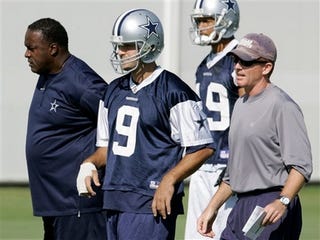 But that's not all - he also did some light football tossing yesterday...with the very hand he throws a football with! Yep, no news was big news at Cowboys practice on Friday, as Romo suited up but didn't do a whole heckuva lot. The Cowboys' injury report lists him as questionable (with an "America's pinkie") for Sunday's game against St. Louis, but according to Jerry Jones, if he's a real man, he's playing:
"He threw the ball well so it's very likely that he will be able to play," Jones said on his weekly radio appearance on KTCK. "Again, the question is: Can he handle the pain? . . . It looks like that he'll be able to play."
Snap! Presumably in response to this affront to his manhood, Romo went and did what most guys would do in the same situation: go and watch their celebrity girlfriends perform live in concert at a Texas state fair. Yes, Romo thrilled concertgoers and stragglers-from-the-rib-eating-contest alike by walking through the crowd towards a sound booth to watch Jessica Simpson show off her newfound country chops. And while Jessica Simpson show + Tony Romo sighting = Friday night in heaven for most, you're going to have to do better to impress one reluctant attendee:
"My wife dragged me out here," said Charlie Ball of Fairview, who added that he does think Ms. Simpson is attractive.
Still no word on what Romo's pinkie thought of the show. Reminder: please send any tips to marcelmutoni@gmail.com and gourmetspud@gmail.com. But just the tips, please. Just to see how they feel. Cowboys' Owner: Don't Count Out Injured Romo [Washington Post] Fans get a glimpse of Tony Romo at Jessica Simpson's State Fair Concert [Dallas News]