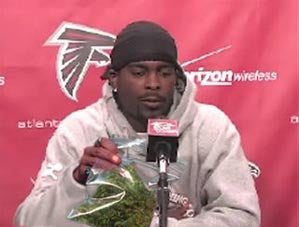 So this is gonna blow your mind, folks: A couple of weeks ago, when matters might have been somewhat stressful for Michael Vick, he ... tested positive for marijuana. You think you know a guy.
A urine sample submitted by Michael Vick has tested positive for marijuana, and as a result he'll have tighter restrictions on his freedom. The test was taken on Sept. 13. Because of the positive test, federal court probation officer Patricia Locket-Ross, who is assigned to Vick, asked Judge Henry Hudson to place special conditions on Vick's release, which include refraining from use or unlawful possession of a narcotic drug or other controlled substance.
We find it difficult to fault Vick here; it's a lot easier to pay for weed before you go to jail, when it doesn't cost you a salad tossing. We were wondering who that stoned-looking guy was, in the pulled down hat and shades, at the town hall meeting last night. Now we know.
Vick Tested Positive For Marijuana [ESPN]
(Photo from KSK and The Onion, of course.)