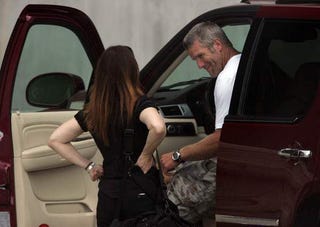 Rachel Nichols cannot be stopped in her dogged pursuit of the Brett Favre saga — and now you can track both of them as they zoom across the Midwest in search of a permanent home for the exiled quarterback. Here's an interesting email from a Deadspin reader:
I work up at [redacted] in Milwaukee, obviously covering the favre crap very closely. Rachel Nichols is on his plane to Mississippi and you can now track it from our website or from FlightAware.com (tail number n475dh). Obviously, I am so amused by how much this diva is getting media coverage, just thought you'd want to know about Rachel being on his plane.
Wonder if she actually has a seat or if she's hiding in the luggage compartment?
Get Away From Me Rachel Nichols! [Deadspin]
Favre and Nichols Plane Ride [FlightAware] Update: The fella that emailed us the first time around appears to have received some conflicting information: Pretty much, we aren't positive she got on that plane. The video doesn't seem to show whether she got on or not. Regardless, she has amazing access that other reporters do not. Sorry for the misconception. We just aren't sure, and I don't want you guys reporting false info. But anything I hear, I will continue to leak since you guys deserve it more than this station. Thanks! And Booooo! Apparently Rachel Nichols is still in Green Bay. Can't they make a Nichols Tracker so we can spot her location at all times?