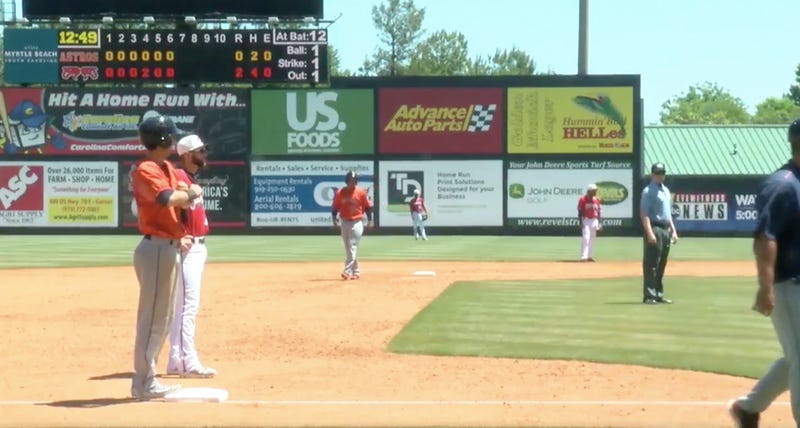 Third baseman Lucas Erceg of the Class-A Carolina Mudcats took his sweet time to get the Buies Creek Astros' Kyle Tucker off the bag after Tucker and teammate Dexture McCall executed a double steal. There's a moment where it seems everyone in the stadium, including Tucker, should know that Erceg still has the ball. And yet, Tucker still takes that lead.
The Mudcats' video from Wednesday's game shows the umpire calling Tucker safe, but it was overturned for an out.
Pitcher Wuilder Rodriguez apparently didn't touch the rubber on the mound, so the play was ruled kosher. Erceg himself defended the legality of the trick online:
Officially, the play-by-play read:
With Anibal Sierra batting, Kyle Tucker steals (9) 3rd base. Dexture McCall steals (2) 2nd base.

With Anibal Sierra batting, Wuilder Rodriguez picks off Kyle Tucker at 3rd on throw to Lucas Erceg.

Buies Creek Astros Manager Omar Lopez ejected by HP umpire Ryan Wilhelms.
H/t to Scott