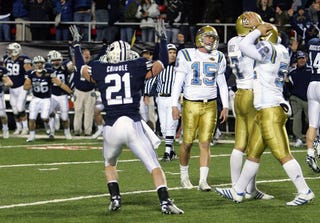 We've been fortunate so far that most of the bowl games have given us actual watchable football. Sure, while many of the games are devoid of tradition ("New Mexico! It's ... culture!") but so what? The way the bowl system is set up, fans normally bludgeoned with story after story of Tim Tebow and Les Miles finally have time to observe the vignettes from mid-major conferences and not miss a beat on everything else.
For example, BYU's last-second blocked kick to beat UCLA in the Las Vegas Bowl was rather exciting (are we sure that was blocked? Looked more like the ball just kind of deflated on its own free will). But while some are familiar with the decline of UCLA, few people got to watch a BYU game this year. For one, I was reminded of the fact that BYU players often go on Mormon missions around the world. That has to be tough to recruit through. Can you imagine if ACC players did that? "Yeah, hey coach. I'm... uh ... gonna take a leave from the team for two years. Don't know where I'm goin'. What's that? Yeah, I know I was gonna be your starting running back. I just ... um, have to do this. But hey, I can join the team again when I come back, right? Thanks coach. Oh, one more thing. Can I have some money? I don't plan on getting a job the next two years."
The list goes on. Schnellenberger's Create-A-School endeavors at FAU. Jeff Bower's enigmatic resignation from Southern Miss. Ben Mauk's transfer to Cincinnati. The fact that New Mexico's bowl win makes it one more team that's won one of these silly games since the last time Notre Dame did. So if you can ignore the handful of bad games, BCS soft news and Hannah Montana product placement promos, the early part of bowl season isn't half bad, considering they're the only postseason games in the world that don't factor into the national championship at all.
The Magic Continues For Cougars [Salt Lake Tribune}