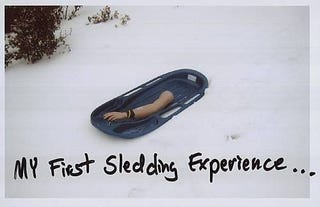 In 2007, the arm of a mannequin outside former San Francisco Seals manager Lefty O'Doul's bar was stolen. Yesterday, it came back. Along with a written and photographic record of its three-year hedonistic joyride across the Midwest.
The minor league mainstay opened the bar in San Francisco in 1958, and his presence is still marked by a mannequin wearing his jersey. Three years ago, two tourists tore off the mannequin's left arm and escaped into the night. The arm was lost, presumed forever. Then a box showed up on the doorstep, and inside, a travelogue worthy of Homer.
The letter was from "Lefty's Left Arm" and opened "Dear Bar Patrons of Lefty O'Doul's." It recalled the plane flight to Des Moines in an overhead bin and its "reservations about the weather."

The arm then listed some of its adventures, including participating in a 12,000-cyclist bike race across Iowa, sledding and touring the state Capitol. Somewhere along the line, it put on a yellow bracelet from Livestrong, cycling champion Lance Armstrong's cancer foundation.

To judge from the photos, though, the arm was usually involved in harassing the friends of its captors, who used it to grope anyone within arm's reach.

The letter included a handwritten note: "We felt it was time for Lefty to return home. He will be missed but long remembered! Lefty's friends."
You read that penultimate paragraph correctly; the arm totally felt up a bunch of chicks.
Lefty O'Doul's thieves do the right thing [SF Chronicle]