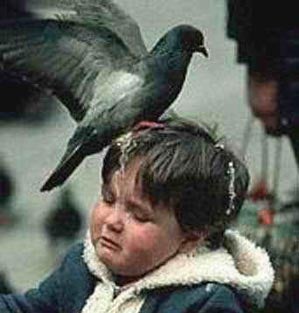 There might be no better metaphor for the beginning of the Cincinnati Bengals' season than the fact that fans have been noticing bird poop in their beers.
Yes, the folks at Paul Brown Stadium are seeking permission to kill pigeons that are heading into the fans' area. This seems like a potentially fun side attraction for the kids of Cincinnati; watch the men in jackets murder birds!
Pigeon droppings have been falling on patrons and into their food and beverages, according to a letter to the city from Eric Brown, managing director of Paul Brown Stadium Ltd., which runs the stadium for Hamilton County, which owns it. He asked in his letter that stadium employees who are familiar with firearms be allowed to shoot birds a few days prior to an event, adding that company officials believe the shooting to be a "cost-effective way to get this problem under control."

City officials are working with stadium officials on both the legalities of killing the birds as well as the means by which they might be killed, said city spokeswoman Meg Olberding.
Right now, there's one Bengals employee who's really excited about being able to shoot and kill things for his job. Hell, he's probably a player.
Bengals: Let Us Cut The Poop [Cincinnati Enquirer]