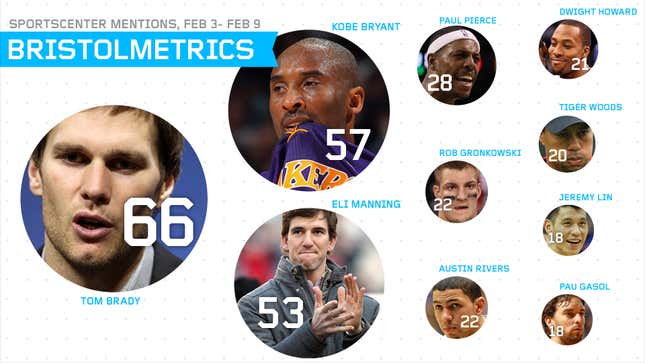 This is a regular feature breaking down, minute-by-minute, the content that appears on ESPN's 11 p.m. edition of SportsCenter throughout the week. Graphic by Jim Cooke.
Watch Greg Hardy go night-night | The SEO Show
Last week, the X-Games and the Australian Open took time away from the network's Super Bowl coverage, and the NHL actually received more airtime than baseball. Here are the results for this week. (Note: Golf got enough coverage this week to break out of "other sports." The only other non-major sport mentioned this week was cycling.)
Total time: 371 minutes
Time (minus commercials): 283
TIME DEVOTED TO INDIVIDUAL SPORTS
NFL: 104.25 minutes (36.8%) (last week: 34.7%)
College basketball: 65 (23%) (last week: 15.7%)
NBA: 64.5 (22.8%) (last week: 22.5%)
NHL: 5.75 (2%) (last week: 1.75%)
Golf: 5.25 (1.9 %) (last week: n/a)
MLB: 2.25 (0.8%) (last week: 0.7%)
College football: 0 (0%) (last week: 0.7%)
Other sports: 0.75 (0.3%) (last week: 3.2%)
SportsCenter staples (things like the "Top 10," "Encore," "What 2 Watch 4," etc.): 35.25 (12.4%) (last week: 14.7%)
MOST-COVERED TEAMS BY SPORT
New York Giants (NFL): 80 minutes (28.2%)
Los Angeles Lakers (NBA): 23 (8.1%)
North Carolina Tar Heels (college basketball): 19.25 (6.8%)
New York Rangers (NHL): 2.75 (0.6%)
Texas Rangers (MLB): 2.25 (0.3%)
MOST-MENTIONED ATHLETES
Rather than break down the amount of time a specific sports figure was covered, we counted how frequently names were mentioned in the transcripts from the week. The 10 most-mentioned sports people for Feb. 3-9:
Tom Brady: 66 mentions
Eli Manning: 64
Kobe Bryant: 57
Paul Pierce: 28
Bill Belichick: 28
Mario Manningham: 26
Tom Coughlin: 25
Rob Gronkowski: 22
Austin Rivers: 22
Dwight Howard: 21
Tiger Woods: 20
Jeremy Lin: 18
Pau Gasol: 18
LeBron James:15
Andrew Bynum: 15
CUMULATIVE STATISTICS: JAN 7-FEB 9
Total time: 2,097 minutes
Time (minus commercials): 1,574
NFL: 576.5 minutes (36.6%)
NBA: 317 (20.1%)
College basketball: 247.5 (15.8%)
College football: 95.75 (6.1%)
NHL: 38.5 (2.5%)
MLB: 33.75 (2.1%)
Other: 73.25 (4.6%)
SportsCenter staples: 191.5 (12.2%)
Notes
ESPN made a big deal about Kobe passing Shaq on the all-time scoring list: If there's one thing I learned this week, it's that ESPN is really going to miss Kobe Bryant once he retires. He's an instant segment-starter for them. After Kobe passed Shaq to become fifth on the all-time scoring list on Monday night, Kobe and his Lakers were the main topic of discussion for the opening 8.5 minutes of a shortened 38-minute SportsCenter. That's more airtime than the NHL got all week.
The NFL has received at least 104 minutes of coverage each week since Jan. 7: The SportsCenter following the Super Bowl was almost entirely dedicated to the NFL. Outside of commercials, and a few quick highlights, it was pretty much NFL Primetime (without Chris Berman). Put it this way: The NFL won the ESPN coverage battle by its smallest margin yet this week, but was covered 39.75 minutes more than the closest competition. Based on a three-minute segment regarding the 2012 season and whether the Pats or Giants are more likely to make it back to the Super Bowl, it looks as if the NFL will maintain a presence on SportsCenter even while we're months away from any major football event.
Rick Reilly made his first appearance during our study: The marquee columnist showed up to say that the Super Bowl should always be a matchup between the Giants and Patriots. OK, Rick, we'll get to work on that. He also hacked out nine lame jokes in 105 seconds of airtime, averaging less than 12 seconds between gags. That included three japes about Giants wide receivers dancing, in the space of two sentences.
ESPN was not quite gripped by Linsanity (at least on our count): That qualifier is there because some of the 11 p.m. SportsCenter shows this week were shortened by prior programming. At least once, a Jeremy Lin package was held back until the 12 a.m. edition. Even so, Lin still was one of the 10 most-mentioned athletes on the program. And Lin's Friday-night performance against the Lakers will belong to next week's tally.
So much for that NHL coverage spike: Even in the sports doldrums of February, ESPN decided it was more important to amp up NBA and college basketball coverage rather than directing any attention toward a league whose games aren't carried on the network. Hockey still held its tiny edge over baseball, but it only managed to get the exact same amount of air time that it did last edition of Bristolmetrics (5.5 minutes). The NHL has gotten more than 10 minutes of coverage in a week exactly one time.