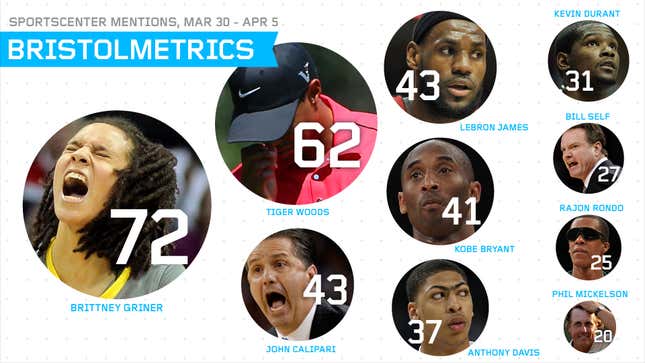 This is a regular feature breaking down, minute-by-minute, the content that appears on ESPN's 11 p.m. edition of SportsCenter throughout the week. Graphic by Jim Cooke.
How running an NFL team is like running a restaurant | Chef Emeril Lagasse
When last we met, Tiger Woods was on top of the golf (and SportsCenter ) world, Tim Tebow was excited, and hockey got more than token coverage. What would this week bring?
Total time: 482.75 minutes
Time (minus commercials): 378.75
TIME DEVOTED TO INDIVIDUAL SPORTS
College basketball: 155 minutes (40.9%) (last week 37.6%)
NBA: 73 (19.2%) (last week 22.4%)
SportsCenter staples (things like the "Top 10," "Encore," "What 2 Watch 4," etc.): 43.5 (11.5%) (last week 14.9%)
Golf: 39.75 (10.5%) (last week 7.7%)
MLB: 29.25 (6.8%) (last week 3.1%)
NFL: 17.25 (4.5%) (last week 11.5%)
NHL: 15.5 (4.1%) (last week 6.6%)
NASCAR: 2.25 (0.6%) (last week 1%)
Other sports: 2 (0.5%) (last week 2.8%)
College football: 1.25 (0.3%) (last week 1.3%)
MOST-COVERED TEAMS BY SPORT
Kentucky Wildcats (college basketball): 78.5 minutes (20.7%)
Miami Heat (NBA): 15 minutes (4%)
New Orleans Saints (NFL): 10.75 (2.8%)
Boston Red Sox (MLB): 5.25 (1.4%)
Pittsburgh Penguins (NHL): 4.75 (1.3%)
Arkansas Razorbacks (college football): 1.25 (0.3%)
MOST-MENTIONED SPORTS FIGURES
Rather than break down the amount of time a specific athlete or figure was covered, we counted how frequently names were mentioned in the transcripts from the week. The 15 most-mentioned sports people for March 30-April 5l:
Brittney Griner: 72 mentions
Tiger Woods: 62
John Calipari: 43
LeBron James: 43
Kobe Bryant: 41
Anthony Davis: 37
Kevin Durant: 31
Bill Self: 27
Rajon Rondo: 25
Phil Mickelson: 20
Odyssey Sims: 19
Dwight Howard: 19
Russell Westbrook: 17
Jared Sullinger: 16
Skylar Diggins: 16
CUMULATIVE STATISTICS: JAN. 7-APRIL 5
Total time: 5,817.75 minutes
Time (minus commercials): 4397.5
NBA: 1052.25 minutes (23.9%)
College basketball: 1016.5 (23.1%)
NFL: 917.55 (20.9%)
SportsCenter staples: 641 (14.6%)
Other: 340.25 (7.7%)
MLB: 186 (4.2%)
NHL: 136.5 (3.1%)
College football: 107.5 (2.6%)
Notes
Brittney Griner beat the Kentucky Wildcats: Dunking wasn't the only thing Griner borrowed from the men's game. She also became the first female athlete in 2012 to rank as the most-mentioned person on SportsCenter during a given week. As Baylor won a title and completed the first 40-win season in women's college basketball history—in a championship game carried by ESPN—Griner got 72 mentions, far more than either victorious Kentucky men's coach John Calipari or Wildcats star Anthony Davis.
ESPN had to sit on the sidelines for its men's college basketball coverage: So this is what the Worldwide Leader looks like when it doesn't get preferential treatment. The Final Four is one big event where ESPN can't enjoy its usual inside-the-arena broadcast sets and instant postgame interviews, thanks to CBS's exclusive rights to the men's tournament. Part of the deal is that, for the first 30 minutes after a game's end, the CBS family of networks gets exclusive access to the highlights. For most of the tournament, ESPN was able to hide this pretty well, showing highlights from earlier games while waiting for CBS's exclusivity window to close.
With the season reduced to one game on Monday, however, ESPN had nowhere to hide. In the moments after Kentucky beat Kansas, SportsCenter broke into the regular programming (as is customary) and immediately began showing live footage of Wildcats fans celebrating in the streets of Lexington. But, unlike other championship games (the college football national championship in particular, which airs on ESPN), SportsCenter didn't go straight to highlights. Aided only by pictures of drunken co-eds celebrating in the streets, Dick Vitale and Rece Davis talked back and forth for 30 consecutive minutes and broke down what they had watched (on CBS) before they were finally allowed to air highlights from the game. For half an hour, ESPN, a multi-billion dollar corporation, had basically the same access as an unpaid blogger. And it was awesome.
Reef the sails! Disney synergy is a-blowing: But the network was able to draw on its corporate power elsewhere. During the Shell Open, mustache-wearing golfer Johnson Wagner made fun of fellow competitor Ricky Fowler's facial hair. The fine folks at SportsCenter noticed that Fowler resembled the fictional character Jack Sparrow, from the Pirates of the Caribbean movies. Laughs were had. But why stop there? The rest of the highlights from the tournament were accompanied by music from the Pirates movie while the crew made a bunch of pirate and maritime puns. No need to license the music. Disney owns the Pirates franchise, from the original amusement-park ride to—ahoy, there!—the newest movie, set to begin production this summer.