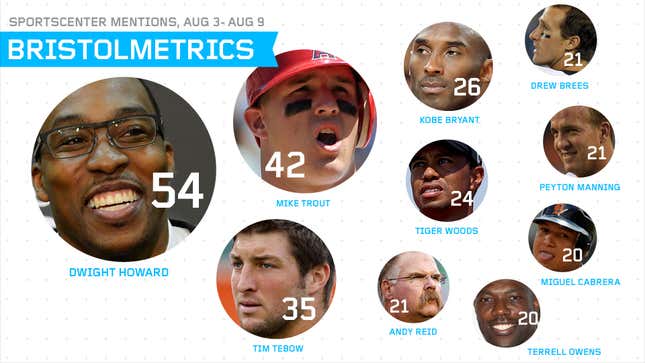 This is a regular feature breaking down, minute-by-minute, the content that appears on ESPN's 11 p.m. edition of SportsCenter throughout the week. Graphic by Jim Cooke.
Chris Paul should ride the bench next season | Keep it a Buck(et)
When last we met, Tebowmania made its triumphant return, ESPN struggled with covering Olympics they couldn't air, and Mike Trout couldn't crack the top seven MLBers. What would this week's SportsCenter bring?
Total time: 435.25 minutes
Time (minus commercials): 328.25
TIME DEVOTED TO INDIVIDUAL SPORTS
MLB: 98.5 minutes (30%) (last week: 38.5%)
NFL: 79.5 (24.2%) (last week: 20.4%)
SportsCenter staples (things like the "Top 10," "Encore," "What 2 Watch 4," etc.): 43.5 (13.3%) (last week: 15.1%)
Olympics: 29.75 (9.1%) (last week: 11.2%)
NBA: 24.25 (7.4%) (last week: 0.8%)
College football: 16.75 (5.1%) (last week: 5.4%)
Other sports: 13.5 (4.1%) (last week: 0.8%)
Golf: 11.5 (3.5%) (last week: 1.9%)
NASCAR: 10 (3.1%) (last week: 5.9%)
College basketball: 1 (0.3%) (last week: 0%)
NHL: 0 (0%) (last week: 0%)
MOST-COVERED TEAMS BY SPORT
Los Angeles Lakers (NBA): 24.25 (7.4%)
Los Angeles Angels of Anaheim (MLB): 13.25 (4%)
New Orleans Saints (NFL): 12.75 (3.9%)
Alabama Crimson Tide (college football): 4.5 (1.4%)
Connecticut Huskies (college basketball): 1 (0.3%)
MOST-MENTIONED SPORTS FIGURES
Rather than break down the amount of time a specific athlete or figure was covered, we counted how frequently names were mentioned in the transcripts from the week. The 15 most-mentioned sports people for Aug.3-9:
Dwight Howard: 54
Mike Trout: 42
Tim Tebow: 35
Kobe Bryant: 26
Tiger Woods: 24
Andy Reid: 21
Drew Brees: 21
Peyton Manning: 21
Miguel Cabrera: 20
Terrell Owens: 20
Dale Earnhardt, Jr.: 19
LeBron James: 18
Matt Kemp: 15
Jim Furyk: 15
Josh Hamilton: 15
CUMULATIVE STATISTICS: Jan. 7-Aug. 9
Total time: 13,952.25 minutes
Time (minus commercials): 10,481.75
NBA: 2,649.75 minutes (25.3%)
MLB: 1,857.25 (17.7%)
SportsCenter staples: 1,501.25 (14.3%)
NFL: 1,384.25 (12.9%)
Other: 1,300.25 (12.4%)
College basketball: 1041.75 (9.9%)
NHL: 447 (4.3%)
College football: 300.25 (2.9%)
Notes
Tebow Time, continued: ESPN covered or mentioned the Jets on all but one episode of SportsCenter, and that was because Dwight Howard getting sent to the Lakers late on Thursday threw off the entire night's rundown. Some of the topics discussed: President Obama's thoughts on the quarterback controversy, Boomer Esaison's absurd contention that the Jets need to cut Tebow for the sake of Mark Sanchez, and wall-to-wall coverage of a practice mini-brawl.
The worst part? This was less coverage than they gave the Jets last week, which included an entire ESPN team embedded at camp. The only reason the Jets weren't the most-mentioned NFL team this week was because ESPN aired a Saints preseason game, and went hard on postgame analysis.
The Dwight Howard saga is finally over: Howard's trade to the Lakers resulted in 24.25 minutes of discussion and analysis, all on Thursday night. His ongoing Orlando saga had been a constant source of segment-fodder for ESPN, so at least that speculation is over. In its place? Speculation on how Dwight will mesh with Kobe/Pau/Nash. And lots and lots of hype and bombast about the Lakers, because they rarely get much attention.
Hey, Mike Trout got some love: Mike Trout continued to dominate the game of baseball last week, and SportsCenter actually took notice. For the first time all season, the presumptive Rookie of the Year and leading MVP candidate led his sport in mentions. He's the biggest reason the Angels were baseball's most-covered team, and, for one brief moment in time, managed to beat out Tim Tebow.