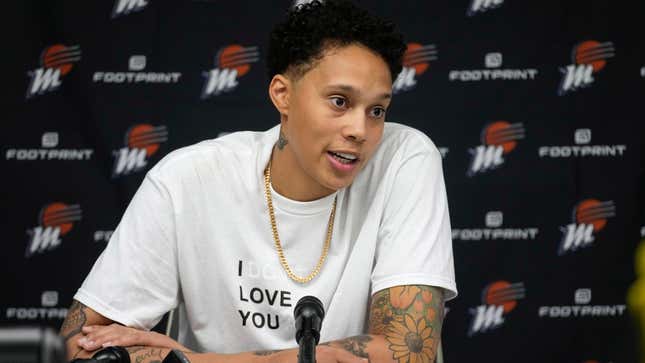 The latest example that human beings weren't meant to have the internet came Saturday. The Phoenix Mercury's Brittney Griner was traveling with her team when she was confronted by a conservative YouTube host at Dallas-Fort Worth International Airport.
What's next for Brittney Griner? | The SEO Show
Apparently, this dipshit, a Dallas native, saw Griner and just yelled QAnon gibberish at her while filming on his phone until security, or authorities dragged him away. The taunts revolved around Griner's 10-month detainment in Russia for a weed pen — but also for a political stunt because Vladimir Putin needed visible leverage over America while they invaded Ukraine.
Regardless of how experts graded the trade, Griner wasn't playing the part of GM in her own prisoner swap. If this YouTuber actually confronted the delegates who thought BG for a Viktor Bout was a fair deal, whatever bump in viewership he's about to get wouldn't have happened. It'd be another sparsely circulated clip floating around cyberspace with all the other pleas for attention.
Both the WNBA and Mercury released statements, which amounted to "we're reviewing the incident," "player safety is the No. 1 priority," and "it's unfortunate and inappropriate that this occurred." The league expanded its use of chartered flights this season, but the only time that happens is when teams are playing back to backs.
However, that's a rant for a future column, because I'd like to level a few more insults at the man being described as a "provocateur." Don't be fooled by the four-syllable word. He's another hack who's gone so far down the rabbit hole that he carved out one of his own. This is what it's like to fully give into hate and negativity; you turn into an irredeemable asshole who accosts victims of intense trauma as if they're at fault.
Hasn't Brittney Griner been through enough?
New rule: If you've been a political prisoner, you're allowed to talk all the shit you want about your government*. It's human nature to question how much your country values you when you've been reduced to an asset. The same thing happens when players are traded to different teams, and they get to see what the organization really thinks of them.
(*To be fair, BG was critical of this fair land before the Russia kidnapping, but Americans — especially African Americans — also are allowed to point out and protest inequities. It's just not a new rule.)
We're told that player transactions aren't personal, because pro sports are a business. Well, imagine if the situation was objectively personal, with people who've never met you literally debating your worth. I'm sure the discourse (if you can call it that) wasn't a shock for an openly gay Black woman to hear, but still nobody should have to hear that.
And then to hear it from some opportunistic piece of shit while traveling for work because he's got a YouTube channel to promote? Fuck that.
Unfortunately, this was inevitable. The WNBA can beef up security, and make special concessions so the Mercury only takes chartered flights, but idiots are everywhere, and they're multiplying at the rate of a wifi connection.
The only thing that's going to protect Griner is a basic understanding of empathy, and you'll have as much luck finding that as you will the airport troll's name in this article.