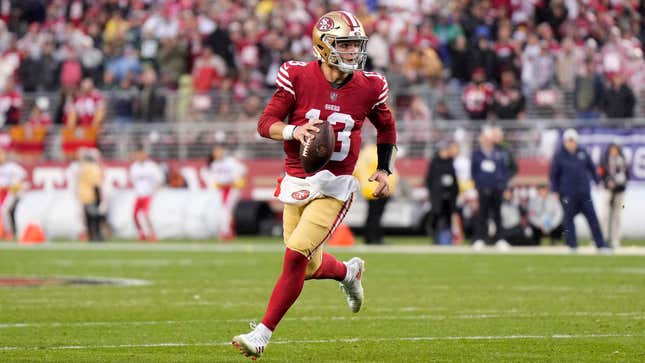 Brock Purdy's NFL playoff debut was a tour-de-force performance that shattered the paradigm for rookie NFL quarterbacks. In one game, the San Francisco 49ers' virtuoso logged more playoff touchdowns than Jimmy Garoppolo has in his entire Niners career.

Transcendent rookie playoff debuts don't just occur through happenstance. The air pressure is different up in the playoff atmosphere. Most rookies don't even play as rookies and the ones that are fortunate enough to waddle out into the postseason and plod around groggily for 60 minutes. Purdy was supposed to hit a wall. Hell, even more experienced quarterbacks experience stage fright under the bright lights. In the first half, we saw some spotty moments from Purdy.

Purdy's 6-0 start to his career has been more analogous to a teenage Eddie Murphy infiltrating the SNL cast, putting the show on his back and fewer than two years later, going toe-to-toe with Nick Nolte in "48 Hrs." There's no telling where Purdy goes from here, but he's already cemented his footprints in NFL lore.

But like Eddie transitioning from 11 p.m. sketch comic to buddy cop movie star with ease, the rook proved he's got the stage presence to ride along in the Niners ensemble cast and occasionally take the lead.

Purdy: Not like all the rest
Twenty-four rookie quarterbacks have started an NFL playoff game and Purdy's debut is the upper echelon, if not the best we've ever seen. In the annals of NFL history, there hasn't been a playoff debut of this magnitude, especially by a rookie passer. Dan Marino's playoff debut doesn't stand out because he lost. To look for the golden standard, you've got to dig deeper.

In the 2000 postseason, New Orleans' fourth-round flotsam, Aaron Brooks set the gold standard by minced the defending Super Bowl champions, but even that came against one of the worst pass defenses in league history. In the 2016 postseason, another fourth-rounder Dak Prescott whipped it around for 304 yards and three touchdowns.

Brock Purdy's 131.5 passer rating is the Burj Khalifa compared to the 111.5 quarterback rating Brooks earned against the Rams, in part because the former was turnover-free. Purdy's improvisational acumen was on display on the laser he threw to Brandon Aiyuk late in the fourth quarter. The score was already lopsided, but Purdy's moxie, accuracy, and poise under duress were all on display as he scrambled calmly, set up for a throw, reset his body, and got blasted in the process. Aiyuk dropped a pass placed in his bread basket, but Purdy put the league on notice. The Niners just got a whole lot tougher to trifle with.
The weapons Purdy's working with are worlds above the hand he was dealt at Iowa State. Purdy went from battling with a dearth of talent on the Cyclones (in comparison to his Big 12 competition) to the riches of Shanahan's Niners. Sure, Trey Lance was plucked from Division II North Dakota State. But he was also a member of a 2-time FCS Champion team that was head and shoulders above their competition.
Not since Mortimer and Duke introduced Billy Ray Valentine to the good life has anyone seen a virtuoso make a more pronounced leap in his available resources and meet the challenge.

Two decades ago, a young Ben Roethlisberger won his first 14 starts, but weighed the Steelers down in his playoff debut. The NFL's 2005 Offensive Rookie of the Year completed 17-of-30 passes for 181 yards and blew through consecutive interceptions, including a pick-six to New York Jets safety Reggie Tongue. Roethlisberger still rode the Steelers' defense's coattails into the AFC Championship Game. The ceiling is higher for Purdy on the back of an equally dominant defense.