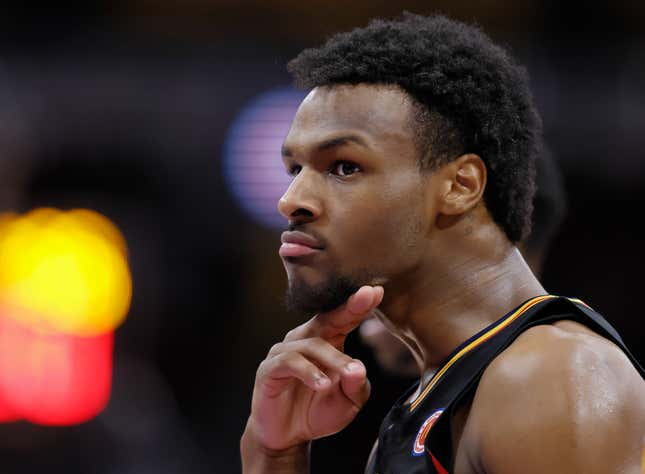 Bronny James finally made his long-rumored commitment to USC official this weekend, after months of speculation that indicated he was staying local to suit up for the Trojans. Weeks ago, James' list of schools was whittled down to Ohio State, which sounded more like his dad living vicariously through him than a plausible destination, and Nike's enclave at Oregon, which would have been a boost for his brand. James' circuitous route to USC was cleared after the abrupt de-commitment of 4-star point guard Silas Demary last month.
Believe it or not! Something is worse than the Oakland Athletics | Worst of the Week
UCLA never made Bronny James an offer
While USC is the best place for James' star wattage to hit maximum capacity, UCLA was the more promising basketball powerhouse for James. Coach Mick Cronin has the Bruins in regular contention for the Top 5 and Final Fours. And Bronny fits the profile of a prototypical Cronin point guard. He's considered one of the most tenacious defensive guards in the class of 2023 and the Bruins have an opening in the backcourt with Tyga Campbell matriculating to the NBA this summer. UCLA's barren cupboard of point guards provided James with the most direct path to playing as much as possible. But while the Bruins recruited James, he never received an actual offer, possibly because they were never among his preferred schools, even though the betting markets named UCLA as the front-runner. 
USC has always felt like a peculiar fit for Bronny. Its men's basketball pedigree is scant. They haven't advanced to a Final Four in 70 years and it's the little brother to a football behemoth. The foundation of Andy Enfield's teams hasn't changed since his FGCU days. Their attacking offenses push the ball with pace and score in bunches. That has never been Bronny's game. In fact, James will compete for minutes with the five-star class of 2023 guard Isaiah Collier. Collier's presence as the second overall prospect according to 247 Sports' composite rankings means James won't even be the best freshman point guard at USC in 2023.
However, at Sierra Canyon, James was often knocked for disappearing into the background. Maybe this means we'll see a more aggressive version of James unveiled at USC. He flashed a more explosive offensive repertoire on the Nike EYBL circuit and college is a breeding ground for teens completely reinventing themselves after high school.
Why USC was a better fit
James' choice may just come down to USC being the best cultural fit for him off the court.
Despite his NIL largesse and celebrity profile, James won't even be the biggest celebrity on campus at USC. That might be quarterback Caleb Williams. USC's incoming classes are typically rife with celebrity offspring. The primary reason Bronny attended Sierra Canyon in the first place was because of its earned reputation as a private school for the scion of the rich and famous. Willow Smith, Kylie Jenner, Kendall Jenner, Scottie Pippen Jr., and Zaire Wade all attended the academy.

USC even has a direct pipeline to Sierra Canyon. James' former Sierra Canyon teammate Amari Bailey played a season at UCLA, before he declared for the upcoming NBA Draft. Rising sophomore Kijana Wright and guard Zach Brooker both played at Sierra Canyon. Additionally, the No. 1 women's prep prospect in the 2023 class, JuJu Watkins, will also star for the Trojans this fall.
UCLA is close to home, but USC feels more like the right place. He can blend in there. Two years ago, USC officials were wrapped up in a college admissions scandal involving the children of Fortune 500 CEOs and Hollywood celebrities. James obviously earned his scholarship on merit, but USC has an entrenched reputation as the unofficial safety school for celebrity kids. It's essentially a West Coast NYU with actual D-I athletic departments. Westwood doesn't have the same celebrity trappings as USC. It's a blue blood where liberal arts nerds and basketball purists gather. USC might be off the beaten path in the college basketball world, but it's the one Bronny chose for better or for worse.
---
Follow DJ Dunson on Twitter: @cerebralsportex