By now, you may have already heard of Greg Smith, an executive director at Goldman Sachs who resigned his post today, and did so the way all filthy rich people do: via New York Times op-ed. And the greatest thing about Smith's editorial is that he manages to tuck his entire resume into the column:
TODAY is my last day at Goldman Sachs. After almost 12 years at the firm - first as a summer intern while at Stanford, then in New York for 10 years, and now in London - I believe I have worked here long enough to understand the trajectory of its culture, its people and its identity.
So subtle! You'd hardly notice he was trolling for a new job! I like how he got the Stanford mention in right off the bat. Smith goes on to list his accomplishments at the firm: "I was selected as one of 10 people (out of a firm of more than 30,000) to appear on our recruiting video." "I managed the summer intern program in sales and trading." " My clients have a total asset base of more than a trillion dollars." All of those little tidbits scream out HUMBLEBRAG, but the crowning glory of this Grade A effort in replicating Don Draper's "We will NOT do any more cigarette advertising" letter is this:
My proudest moments in life - getting a full scholarship to go from South Africa to Stanford University, being selected as a Rhodes Scholar national finalist, winning a bronze medal for table tennis at the Maccabiah Games in Israel, known as the Jewish Olympics - have all come through hard work, with no shortcuts.
BAHAHAHAHAHAHAHAHA!!!!
Holy shit, he really squeezed that in there. I can't believe it. Not only did he mange to get in every important point on his resume, he even managed to include his extracurriculars. "I hate what Goldman has become. Also, MY HOBBIES INCLUDE FREESTYLE SKIING AND MAKING FONDUE." Mel Gibson is gonna make a full-length about Greg Smith's brave run to third place in the Jewlympics. We'll call it SMITHSANITY, and it will be the most inspiring story ever told. No one grabs the bronze in ping pong by being a high-paid GLORY BOY. You gotta earn that shit yourself.
G/O Media may get a commission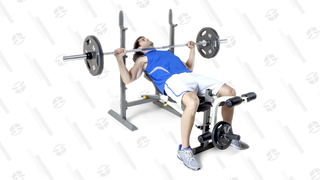 10% Off
Marcy Folding Weight Bench
Greg Smith is awful. If only he had managed to slip his LinkedIn address into this thing, then I could contact him directly and tell him where he can put his bronze medal.