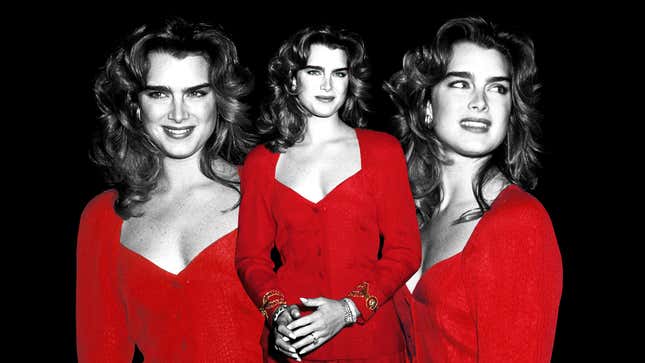 Originally published as "Brooke on the Brink" in the October, 1990 issue of New York Woman, this profile appears here with the author's permission.

Air Jordans are more American than McDonald's French fries | Deon Cole's Ultimate Sports Fantasy
The very sight of Brooke Shields, the six-foot icon slash model slash actress, puts people into shock. Whatever they're doing, they stop. Here in the Pan Am terminal at La Guardia, wearing a fitted, floral dress—magenta and yellow on white—she has once again commanded everyone's attention. It's as if a giraffe had picked up the courtesy phone. But Brooke doesn't notice (or does she?). She focuses on the fact that she's hungry. What, what should she eat? Brooke is monitoring her weight, and since she has a late dinner planned she's going to hold out. No, she's going to get something.
Instantly, she's back with the tiniest cup of frozen yogurt. "This," she announces, "is the best kind." For a second it sounds like an endorsement. But almost as fast as the yogurt has arrived, it lands—plunk—in the garbage. She will hold out. She will. Curious observers wander over to the garbage can after she leaves and nonchalantly inspect the spoils.
Brooke always wears sunglasses—summer, winter, spring, fall; sunny or overcast. "My uniform," she says wryly. When she removes them now, the audience can confirm that, YES, they've spotted her; yes, that's her. They nudge each other, and they stare. They remark that she's filled out a bit, her face, her waist, her bottom. They notice she's still remarkably beautiful. Jealous teenage girls shake their heads, NO, she's not that great. They watch her till she's out of sight.
Along with Princess Di, Marilyn Monroe, and Madonna, Brooke Christa Camille Shields (she chose her confirmation name in honor of Garbo's Camille) is one of the most recognized women in the world. But reflecting on the broad power of her image is not her favorite thing to do. "If I really thought about it I would have a nervous breakdown," she says without irony. "I don't really understand it. It's almost too big, too surreal to accept. And I don't do too much to try to figure it out. 'Cause once you do that you're on the outside of yourself. When I get vulnerable or tired and I'm at a party or something and I concentrate on what's going on, on the attention on me, my stomach starts to turn. And I get nervous and I get hot and I have to run into the bathroom. An anxiety attack. I can't perform as well."
Brooke Shields has always been a cottage industry: a woman-child phenomenon with sexual ambivalence and controversy following in close pursuit. From the infamous child pictures that featured her almost naked and glistening with baby oil to the provocative Calvins ads and the dewy-eyed young-love movie roles, Brooke's career has brought her fame and has brought Teri Shields, the mother-manager who orchestrated it all, bitter criticism. "People are jealous," Brooke will say in defense of her mother. "It's a relationship that's unusual, one they don't understand."
Even after 15 years of public visibility, Brooke Shields is widely seen as an anomaly, a relic of the 80s, a chimera off a magazine cover. She's Bob Hope's USO sidekick, smiling in dowdy clothes at this week's event, a woman seemingly born in the wrong decade. She's Deanna Durbin, the Wella girl, the all-American innocent. So now Brooke Shields and Company's most important asset has decided to make changes, to work toward becoming a serious actress and being perceived as one. At least that's what Brooke says she wants. "I can't beat myself up trying to convince people," she says. "But a minute doesn't go by that I'm not dreaming about a film I want to be in." But can she do it? And, more importantly, will she do it sans mom?
Teri Shields worked hard for her daughter: When she was 11 months old, baby Brooke had her first job modeling for Ivory Snow. By the age of 11, she had become the Breck girl and had written the Brooke Book, a collection of poems, stories and advice for young girls. A few years later came the Wella contract, along with hundreds of modeling assignments for up to $10,000 a day, in which she looked, oddly, twice her age. At 15, her recognition pinnacle: Squeezed into size five jeans (her size, at the time, was seven), she was paid a reported $800,000 for the Calvin Klein campaign, a series of print and television ads in the fall of 1980 that sent sales rocketing. Then came the Brooke dolls (with tan!), which had measurements that corresponded accurately to hers. (People in her Princeton dorm had fun with the Brooke dolls, posing them 69 with Ken.) In college she wrote On Your Own, another advice book, and over the years she appeared on countless magazine covers, including Time and Life.

Brooke appeared in Louis Malle's Pretty Baby when she was 11, playing a child prostitute. It's probably her best performance. She starred in a weepy sex drama called The Blue Lagoon at 15 and made men of all ages swoon, even though no one saw a bit of her breasts (she wore pasties and had her long tendrils glued to the spots). That film made over $100,000,000, an extraordinary amount for the time. All the elements of the Brooke Shields phenomenon were brilliantly maneuvered by Teri Shields, who turned her daughter (the grandchild of a Newark blue-collar couple, a 40s tennis star and an Italian princess) from any old child star into Time's face of the 80s.
Teri performed a balancing act with her daughter's image—playing sex against purity. The parts she chose for Brooke had a common theme: the innocent girl stuck on an island, born in a whorehouse. Cash in on the sexuality and then wash it off—that seemed to be her mother's plan. After the shoot, we always knew that Brooke would be back home, studying.
But the child-model trend that Brooke spawned (by 15 she was the youngest model ever on Cosmo's cover) doesn't, of course, work to her advantage anymore. And the last few years have been filled with artistic mistakes, thanks to mom. In 1983, Mrs. Shields (as her staff calls her) was the executive producer of Sahara, an odd adventure-drama/star vehicle for which Brooke received one million dollars. It flopped. In the mid-80s Teri chose a couple of cheesy TV movies with such words as wet and trap in their titles. Then came Brenda Starr. It has been ready for over two years. Brooke says it's in litigation. Industry experts say it is also unreleasable.
Currently, Brooke has a part in an independent feature, Backstreet Dreams, in which Brooke Shields and Company is a financial partner. The film seems destined to hit the video circuit faster than she'd like. Brooke needs a big movie. For Teri's daughter, it's time, if she can, to let go.
Unlike most actresses, Brooke Shields has an odd inability to hear herself, to stand on the outside and TUNE IN. Woven in with her lucid observations are ones that are much harder to fathom, highly charged statements made with complete calm. It's like flipping on the switch to a TV.
"I had this favorite doll, Blabby," Brooke explains. "She's still my favorite doll. She has no hair now. But I've still got her; she's like a little person. Anyway, I used to hug her to me and say, 'Nothing comes between my Blabby and me!' So when we did those commercials, when I read the line, I read it the way I said it about Blabby. 'You know what comes between me and my Calvins? Nothing!' So I went to Europe and when I came back there were headlines all over the place. I couldn't believe it. I didn't even understand. My mom was equally shocked; they made it seem like this little girl doesn't wear underwear! Ridiculous!" At 15, maybe Brooke understood not to understand.
"I was thinking of reading My Mother, My Self," says Brooke, "but I'm not into soul-searching this week." When the discussion turns to her mom, Brooke gets cagey. "It's hard, you know. It's like a marriage. And I'm very impressionable as far as my mom is concerned. I'm so close to her. If we're sharing something to eat, she can say, 'this doesn't taste very good,' and I'll be like blech, blech, you're right. Even if I've liked it just a second before. If I get sick, she gets sick. I had something wrong with my arm, and so help me God she got a pain in exactly the same place. She said, 'I don't know, honey, I just feel so close to you.'"
Some say Teri Shields strapped Brooke to her as an infant when they went to sleep, for fear she'd succumb to crib death. And since then Teri's always "protected" her. "She's the lioness and I'm her cub," says Brooke. When Brooke's body double in Endless Love had a tiny blemish on her butt, Teri demanded that each frame be retouched. Teri dotes on Brooke. Are you thirsty? Do you need to tinkle? she'll ask.
"They sort of told Brooke to move on [from her mother]," stepsister Diana Auchincloss says of the ICM agency. "But that will never happen."
"People tell Brooke she doesn't need her mother," says her friend Stephanie Venditto. "How would that make you feel?"
"Nothing will ever replace that tie I have with my mother," confirms Brooke, no doubt to ICM's chagrin, "and no one should ever challenge that, because they've lost before they've started." Shields recently moved over to the William Morris Agency.
The more Brooke talks about Teri, the more she contradicts herself. "I did the rebellion thing," she'll say. "I'm still in it. I had a deep resentment for anything she had to say and then when she was right, which was almost all the time, I got even more mad. It's starting to work, but it's one of the hardest things I've had to deal with in my life." Moments later, she'll add, "I've come to realize that her best interest was for me. She was my best friend. I wasn't going to fight her and go take drugs. She would have said, you want to take drugs, I'll get you the best stuff. That's literally how she was."
These days, Brooke shares her Upper East Side townhouse and an estate in New Jersey with her mother. (Teri spends most of her time in New Jersey; Brooke, in New York.) The townhouse is pristine, decorated in a discreet modern-French style. Her People's Choice awards sit in a glass display case along with her Friars Club plaque (Francis Albert Sinatra was her sponsor). Couture lamps, wood floors, lush plants, the townhouse is designed, just like the home of an east side magnate's wife. Her daily life, like that of most actresses, is filled with classes: dance, acting, exercise. "She's very booked," says her sister. "Every minute is filled." She visits her boyfriend, a Washington, D.C., real estate broker; she sees her father, Frank Shields, a former Revlon executive, fairly often. "I had one parent who avoided everything," Brooke says of her father, "and another who was the opposite. Every morning [with Mom] it was a cathartic experience. Every single meal, so volatile."
"Brooke's a Weeble," says Stephanie Venditto. "She may wobble but she won't fall down. She's been a pro since she was born." It's true—from all appearances, Brooke Shields doesn't falter. She's eminently pleasant; that anxiety attack seems far away. Where does she put it? She speaks articulately, she twirls her lightened honey-brown hair, she deftly dodges uncomfortable questions. She's tactful when she catches you staring at her perfectly proportioned face; she looks away and then looks back. Like anyone who has done 1,000 interviews, she has the requisite responses: "I'm in a new place now. I like the place I'm in now." You'll find she liked the place she's in now in quotes all over through the years. Brooke also reveals a central theme. "One thing I'm not good at," she says, "is letting go. It's so easy to be dependent. I've always wanted to please everyone. It's taken me years to recognize that, let alone change it. I grew up seeking the approval of everybody."
"She hung around with the BP's at school. You know, the beautiful people," says a classmate from Princeton. "But she was also a goody-two-shoes, the sort of student that stayed after class to schmooze the professor." Sure enough, Brooke's college guide recommends that approach in a section titled "Establishing a Good Relationship with Your Professor." Actually, On Your Own is an extraordinarily revealing document (and not just because its title bears no relation to the life she leads). In its pages, Seventeen meets the New Right as Brooke covers (among many things) what clothes to bring to college, how to wash your skin, how to deal with homesickness and, most importantly, "Family Problems." (This section feels as if not one but several editors had their hands on it.)

When I was thirteen I realized my mother had a serious drinking problem. I took the role of parent to her child, and did I ever take good care of her. If she got drunk in a restaurant, I'd help her home. If she passed out on the couch, I covered her up. The most difficult aspect of her alcoholism was dealing with the two different people my mother became…. Mom was never abusive, but she would become furious at every little thing. Her anger sometimes became unintentionally violent. Once, she threw a plate at me which accidentally hit me.
A plate thrown at Brooke accidentally hit her? The face of the 80s encounters the word of the 80s: denial. Asked about her mother's behavior today, Brooke changes the subject or gives a nonanswer. "I resent that," she'll say, or "It was a media event!"
Denial or no, Brooke is terribly sweet.
Not fake. Maybe not a goody-two-shoes, but someone who longs to be perceived as clean, even though she realizes that sex sells. In Backstreet Dreams, there's a love scene inexplicably carried out in a swimming pool, with Brooke wearing a sheer dress. That old mixed message. But Brooke, unsolicited, says that she "had a pretty strict upbringing." And that's what she wants to leave you with. For the world, the real Brooke is to be associated strictly with the straight and narrow.
At ticketing, an airline employee offers Brooke a bargain. "You're 24, right?" he asks.
"Oh? Yes," says Brooke, polite and confused. (She's 25.) He smiles; she's pleased. Brooke will travel to Washington for $49 instead of $119.
"Now I can take him out to dinner" she says happily. (Brooke has to worry about the cost of a dinner? Well, she doesn't command a million per movie anymore.) She's really glad she didn't eat the yogurt. "Yeah! I didn't eat it!"

"Oh," gasps the young man at the check-in counter, "you're even more beautiful in person."
"Thank you," says Brooke, cheerily, for the millionth time, and asks for a boarding pass.
"You'll have to stand by," he says, joking.
Brooke laughs.
"Can I have your autograph?"
"Sure." She writes him a note. "To Anthony," she says, and looks up at him. She hands him the note with two Xs next to her name.
On the plane Anthony rushes up the aisle. "You forgot your boarding pass," he says, breathless from the sprint. Clearly the stewardesses were too struck to notice. She says thank you, she smiles, and he, peering over his shoulder, moves out of earshot. For a split second Brooke tells herself the truth. Under her breath she corrects him. "No. You forgot to give it to me."