Bruce Arena, the U.S. men's national soccer team coach who never should have been "in" in the first place, is now out. U.S. Soccer allowed him to tender his resignation, three days after the the U.S. team failed to qualify for the World Cup after losing to Trinidad and Tobago in the country's biggest embarrassment since whatever Trump's last tweet was. In a statement, Arena said:
This certainly is a major setback for the senior Men's National Team program, and questions rightly should be asked about how we can improve. No doubt this process already has started and will continue so that U.S. Soccer can progress. Having said that, it also is important to recognize the tremendous growth and accomplishments we have achieved over the past two decades in all areas, including player development, coaching education and a stable domestic professional league. This work is ongoing and despite the result in Trinidad, the sport is on the right path. By working together, I am confident soccer in this country will continue to grow in the years and decades ahead.
Arena being allowed to resign, after insisting in the post-match presser and again in his resignation letter that "there is nothing wrong with what we're doing" and that U.S. Soccer is "on the right path," is one of many items on U.S. Soccer's list of failures. Arena should have been fired Tuesday night, but instead, U.S. Soccer president Sunil Gulati, the economics professor who is good at making money for the U.S. Soccer Federation but bad at actually fostering good and sustainable soccer in the U.S., let him walk away unscathed, still spouting the same niceties to the inside of his own ass. From Arena's statement:
While this is a difficult time, I maintain a fierce belief that we are heading in the right direction. I believe in the American player and the American coach, and with our combined efforts the future remains bright.
His jingoistic insistence on having an American coach is foolhardy. His belief that MLS players are as capable as players who play in Europe or Mexico, is unfounded and damaging. (Crucially, he left Geoff Cameron, who plays for Stoke City, and Fabian Johnson, who plays for Borussia Mönchengladbach, out of the lineup Tuesday, as if to make a point that domestic players can get the job done. They didn't.) His arrogance in chalking up a loss to Trinidad and Tobago—a slightly better than amateur team that lost its last SEVEN international games—to "a blemish," is a willful refusal to see what's wrong with U.S. soccer. That should be disqualifying.
Gulati, of the same mind as Arena, should've resigned as well. After the match Tuesday he told ESPN:
"You don't make wholesale changes based on the ball being 2 inches wide or 2 inches in.
G/O Media may get a commission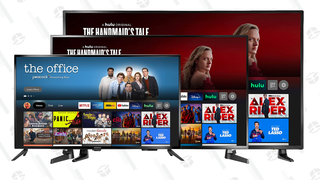 Up to 44% off
Prime Early Access - Insignia Fire TVs
While a few late chances would've given the U.S. a chance to draw with Trinidad and Tobago, the fact that the U.S. were even in that position, scrapping for a tie, in the easiest FIFA qualifying region in the world, is reason enough for wholesale change. Gulati has been president since 2006 and though he apparently doesn't have the decency to resign immediately—he said today on a conference call that he would not leave his post—he should be voted out as president in the next election in February.
(Yes, the women's national team was thrillingly, utterly dominant for a stretch during Gulati's reign, but even the women's team is now struggling to maintain their success—they lost to England and France earlier this year in the SheBelieves Cup— and the lack of sustained success can be traced to how U.S. youth soccer and player development are built for making profits, not for fostering the best possible national teams. Gulati and his ilk are also the ones who forced the world champion women's team to play on subpar artificial turf fields during their victory tour and didn't agree to pay the women's team more equitably until they were sued.)

Arena was hired last year as a backlash to Jürgen Klinsmann's approach, and the fact that he was seen as the best option is itself a sad reflection of the state of U.S. soccer. There are several good, if out-there options for the next USMNT coach floating around, including Huddersfield Town's German-American manager, David Wagner. But U.S. Soccer doesn't just need a new coach; it needs a complete overhaul. Arena is gone, now Gulati and every other executive satisfied with the status quo need to clear out.