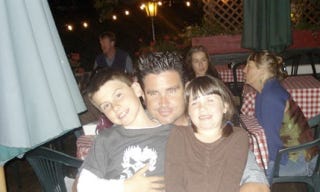 It's great that Bryan Stow is getting transferred from a hospital to a long-term rehabilitation center more than six months after getting beaten into a coma outside Dodger Stadium. Especially when the San Francisco Chronicle story about it contains this vignette:
Before a visit by one of Stow's favorite bands, Queensryche, he looked at them through the doorway of his room and said, "They are all dressed up. I'm not dressed up." Later, Stow asked the band to dedicate a song to him.
Granted, this is when the difficult portions of the rehabilitation process begin. The relearning how to walk. To eat. To dress yourself. To rock out to Queensryche. Even to think coherently, consistently. But it's a markedly positive step to not require round-the-clock hospital care.
Bryan Stow's big move - he's leaving the hospital [SFGate]
Bryan Stow 'extremely challenging patient,' doctor says [LA Times]